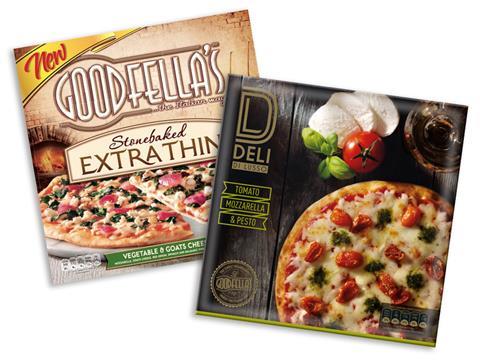 Birds Eye owner Nomad Foods has agreed to acquire Goodfella's Pizza from 2 Sisters Food Group for €225m (£199m) to expand its frozen food empire.
It's the first deal for the New York listed group since the £500m swoop for the European arm of Findus in August 2015.
Goodfella's manufactures and distributes a portfolio of branded and private label frozen pizzas in the UK and Ireland.
The Goodfella's brand, which accounts for the majority of its pizza revenues, was founded in 1993 and holds number one and number two market share positions within the frozen pizza category in Ireland and the UK respectively.
The acquisition also includes the San Marco brand and two frozen pizza manufacturing facilities, which would "provide a foundation" for future expansion in the category, Nomad said.
The frozen pastry, frozen vegetable and frozen fish parts of Green Isle Foods, which is the Irish-headquartered immediate parent business of Goodfella's, will remain part of 2 Sisters Food Group, including household brands UpperCrust, Green Isle and Donegal Catch.
"The acquisition of Goodfella's Pizza comes at an exciting time for our company," Nomad CEO Stefan Descheemaeker said.
"2017 was a banner year as investments in our core portfolio translated into strong organic revenue growth. We exited the year on a high note, with our updated guidance reflecting better-than-expected top and bottom line performance during the fourth quarter.
"Goodfella's Pizza creates a new and exciting growth avenue into frozen pizza, a strategic category that is both sizable and complementary. We have a strong foundation in place and are well positioned to create shareholder value as we apply our proven toolkit of capabilities to Goodfella's Pizza and further develop our portfolio of iconic and market leading brands. We are excited to welcome the Goodfella's Pizza employees to the Nomad family."
2 Sisters CEO Ranjit Singh added: "We have had approaches over the past couple of years for these businesses, and we have been talking to several interested parties during this period. But a sale had to be at the right time, with the right buyer, and it had to be a deal that fitted with our long-term strategy.
"This deal represents our first major step to transform 2 Sisters and build a better business.
"Nomad Foods is a fabulous new home and this deal will enable the business to continue to flourish with a new owner who are experts in the frozen category."
The net proceeds from the sale will be used to repay debt at 2 Sisters and invest in the group's core businesses, Singh said.
Nomad ambitions
Nomad was floated on the New York Stock Exchange in April 2014 by US tycoons Martin Franklin and Noam Gottesman as a special purpose acquisition vehicle with ambitions to create a consumer foods giant.
It netted Birds Eye owner Iglo for €2.6bn (£1.8bn at the time) in its maiden deal in April 2015 before adding Findus later in the year.
Gottesman, co-chairman and founder of Nomad, added: "We are pleased to announce the acquisition of Goodfella's Pizza. Over the past two years, Stefan and the team have successfully integrated two of Europe's largest frozen food businesses while strengthening the core product offering.
"With strong organic revenue growth momentum, the time is right to expand into new strategic categories such as pizza, which offer adjacent avenues for further growth and synergies. The Goodfella's Pizza brands and team broaden our product offering and customer reach, and solidify our market leadership within the United Kingdom and Ireland. We are pleased to welcome Goodfella's Pizza to the Nomad Foods portfolio."
Nomad expects the acquisition to contribute about €150m (£132.8m) a year in revenues, with adjusted EBITDA of €22m (£19.5m) to €25m (£22.1m).
The purchase price will be funded through cash on hand and the transaction is expected to be completed in the first quarter of 2018, subject to certain closing conditions.
In addition, Nomad now expects 2017 adjusted EBITDA to be approximately €328m versus the prior expectation of approximately €325m to €327m and organic revenue growth of approximately 5% for the fourth quarter of 2017 versus prior guidance of approximately 3%.