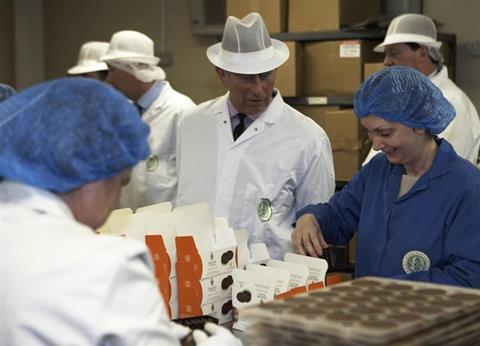 Premium chocolatier House of Dorchester has been acquired by fellow up-market confectioner Charbonnel et Walker, The Grocer understands.
House of Dorchester, based on the Duchy of Cornwall estate at Poundbury, Dorset, was previously owned by a combination of private equity firms Maven Capital Partners and Albion Ventures along with the chocolatier's former management team.
It is understood that the private equity firms exited their investment, which was initially made in 2002, in late July and a new management team is already in place after the Charbonnel et Walker purchase.
One city source said the deal made strategic sense for Charbonnel et Walker.
"Buying House of Dorchester will give it the opportunity to scale up and give it access to new distribution channels," he said.
House of Dorchester has a broad customer base, making bespoke chocolates for hotels, restaurants, shops and venues. Some of its biggest customers include Tesco, for whom it makes the Chokablok range, the National Trust and Waitrose.
The terms of the deal are unknown, but Albion's portfolio reports show that the venture capital firm had marked down the value of its House of Dorchester investment by 45% from June 2012 to June 2013.
In October 2013, Albion wrote that "weaker than expected performance impacted the valuation of House of Dorchester" and that it was "working closely with the management team… to improve their results".
House of Dorchester declined to comment on the change of ownership and the former private equity owners referred enquiries back to the company. Charbonnel et Walker had not responded to requests for comment at the time of the article going to press.
Over the last two years, the company has increased production capacity at its Poundbury factory through reconfiguring the factory and moving warehousing off-site. It was planning to expand the facility by 50% this year to bring distribution and packing back onto one site, but although the extension was due to be opened in May 2014 after a 38 week build, The Grocer understands work has not yet been started.
The firm announced it was ceasing production of the organic chocolate range it made for Waitrose's Duchy Originals brand in July last year due to poor margins on organic chocolate.
Founded in 1875, Charbonnel et Walker has a small number of retail outlets, including a store near its original location on New Bond Street in Mayfair, and its chocolates are made at its factory in Royal Tunbridge Wells. Its products are stocked by Harrods, John Lewis, Selfridges, Liberty, House of Fraser, Fenwicks, Waitrose and Harvey Nichols.
UPDATE: Charbonnel et Walker confirmed its purchase of 100% of House of Dorchester on Friday 8th August. The current directors at Charbonnel et Walker have become directors at House of Dorchester, while the day-to-day managemnet team at House of Dorchester remain in place.
A Charbonnel et Walker spokesperson said: "We are keen to invest in English chocolate. The opportunity to acquire the company arose and we believe there is a synergy between both companies. House of Dorchester is a strong British brand with a dedicated and established team and together we intend to carry forward the English chocolate tradition."