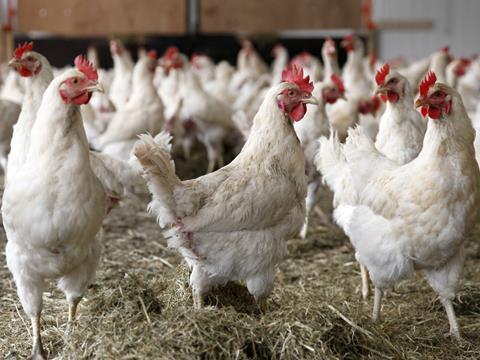 Ranjit Boparan has been ordered to hold off from integrating Banham Poultry into his chicken empire while the competition watchdog takes a closer look at the deal.
Last month, the founder of 2 Sisters Food Group struck an agreement to acquire the Norfolk-based chicken processor through his private family office, Boparan Private Office (BPO).
A spokesman for BPO said at the time the deal would secure the jobs of more than 1,000 staff working at Banham, as well as many more across the supply chain.
However, the CMA has today kicked off an investigation into whether the deal would harm competition in the sector, with Boparan already owning the UK's biggest poultry supplier as well as turkey giant Bernard Matthews.
The regulator issued BPO with an initial enforcement order ahead of launching a full phase one merger inquiry.
The notice prohibits Boparan from integrating Banham into any part of his poultry empire or its subsidiaries until the CMA is satisfied the deal won't create a monopoly that could harm consumers.
The move is standard practice when regulators scrutinise takeovers to make sure any ruling to block a deal or enforce remedies is not scuppered by the integration of the businesses.
The CMA has yet to formally announce dates for the launch of the merger inquiry or a deadline for a phase one decision.
The CMA has looked into acquisitions made by BPO in the past, including the 2016 takeover of turkey processor Bernard Matthews, which Boparan's private investment vehicle bought in a pre-pack administration. The watchdog cleared the deal in January 2017 following a three-month probe.
Banham was previously acquired by Chesterfield Poultry back in 2018 in a pre-pack rescue deal after the business was hit by a number of challenges.
However, the company, which generated revenues of £145m in the year ended 30 June 2020, continued to battle setbacks following the deal, including being forced to close the Norfolk factory in August last year after more than 120 staff tested positive for Covid. The almost month-long shutdown cost the business about £2m a week and led to the culling of close to 380,000 chickens, with a stock loss of £3.8m.
MD Blaine van Rensburg told the BBC at the time that the situation "put the company in danger".
Earlier this year, in August, a chemical spill at the factory led to a number of staff being taken to hospital in an incident that the Health and Safety Executive is examining.
It follows an earlier incident in October 2018 when two pest control subcontractors were found dead at the plant. The factory has also been involved in two fires in 2019 and 2020.
A BPO spokesman said: "We have sought regulatory approval from the CMA and will be working with them in the coming weeks on their investigation."