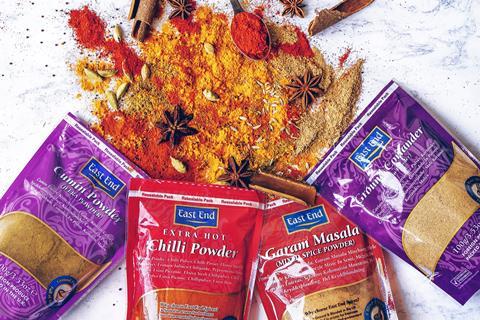 Private equity player Exponent has created a new venture to consolidate brands in the Asian and free-from markets.
Vibrant Foods will house Asian wholesale specialists TRS Foods and East End Foods, acquired by Exponent last year. Both companies sell largely plant-based goods, which the group plans to add to via the acquisition of health-focused growth brands.
South Asian ethnic foods wholesalers TRS and East End will remain as separate brands, but will both sit within Vibrant Foods and use each other's distinct route to market strengths to grow their respective reaches.
The new group will be run by Tilda veterans Rohit Samani and Umesh Parmar, who have been appointed chairman and CEO respectively.
Samani told The Grocer: "We will continue to build our strong support for the independent trade and develop our presence and offerings in the world foods fixtures. In parallel, we will also be looking to take our brands on to the mainstream fixtures to bring in all consumers into the wonderful, healthy and tasty world of spices and pulses both for scratch, adventurous cooks and for consumers looking for healthy and convenient foods."
"We're in very good categories and see room for enormous growth."
TRS specialises in the supply of pulses and spices, with distribution across Europe, while East End has a wider range of Indian cuisine products supplying UK independents and supermarkets.
Samani said Vibrant would focus on growing the two brands – which had a combined turnover of £300m before Exponent acquired them and have current branded revenues of £113m – organically, while identifying further branded bolt-on acquisitions in healthy eating and snacking.
It is thought the group is already in active discussions around acquisitions and is likely to make its first addition to the portfolio over the summer months.
To help advise on its move beyond its South Asian focus, Vibrant has brought in former Quorn CEO Kevin Brennan as a non-exec director.
Exponent previously owned Quorn before selling it to Monde Nissin for £550m in 2015.
Other members of the Vibrant leadership team include former Adelie CFO Mark Stott, ex-Hain Daniels CEO and 2 Sisters MD Jeremy Hudson as COO, and former Tilda and Tesco exec Vijay Vaidyanathan as chief commercial officer.
Samani said Vibrant's ambitions had not been dented by the coronavirus crisis as it had continued to see "very high" consumer demand for its products in lockdown, noting its importance as a supplier to the independent trade in particular.
"Demand has exploded for these brands. Over the past few months we have had to scale up production in all our factories, bring in more supplies and push more products out of the door for both businesses," he said.
"People have been cooking much more at home and trying to eat healthier during this period and we're seeing signs that these changes of habit is going to be a long term trend."
Exponent senior partner Simon Davidson added: "Vibrant Foods will build upon the foundation of TRS and East End, investing in new product development in order to fulfil consumer desires for new and healthier foods. We look forward to working with the new management team to grow Vibrant Foods into one of the UK's leading food businesses."
Vibrant said the South Asian foods market is estimated to be worth between £2.5-£3bn and growing at 5% a year in the UK, thanks to immigration and relatively higher birth rates withing ethnic communities as well as increasing demand from mainstream consumers.
Samani added that said that the TRS and East End acquisitions also demonstrated a template as to how Vibrant could help family-run businesses in the ethnic food category achieve an exit while protecting the legacy of these firms.