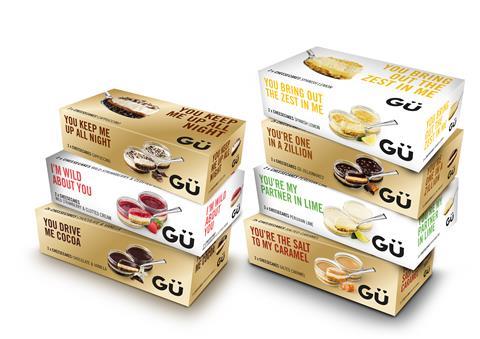 An auction for Gü is racing towards a conclusion as a handful of trade and private equity suitors battle to take control of the pudding brand.
The sale by owner Noble Foods has attracted strong interest, with the bidders taken through to the final round of the process expected to pay upwards of £150m for the premium dessert maker, The Grocer has learned.
Dairy giant Müller is among the remaining potential trade buyers, while PE firms Exponent, CapVest and ECI Partners are also vying for the brand, according to sources in the City.
All three PE houses have strong histories in the consumer space. Exponent currently owns dairy supplier Meadow Foods, as well as ethnic food platform Vibrant Foods and snacks brands Proper and Eat Real; CapVest this week sold Eight Fifty Food Group, which owns Young's Seafood and Karro Food Group, and is in the process of finding a buyer for ambient group Valeo; while ECI Partners sold premium pet food manufacturer MPM late last year.
Confectionery giants Ferrero, Mars and Nestlé have all run the rule over Gü in the past, but it is not clear if any have been involved this time around.
Egg producer Noble engaged advisors at Spayne Lindsay last year to run an auction of Gü, which was expected to come with a price tag of around £100m.
However, a competitive process has pushed the price closer to £150m, with an EBITDA multiple of between 12 to 14x, a dealmaker said.
"Valuation is likely to be at a high double-digit multiple given the traction the brand has had during the past year as consumers indulged while stuck at home during the pandemic," a City source added.
Another dealmaker said there was currently a premium attached to businesses that have proved resilient throughout the Covid outbreak. "It is a challenge on the buy side of deals as prices are pretty full at the moment," he added.
Gü outpaced all rivals in yoghurts and desserts to log the biggest growth in the category in 2020 as indulgent brands drew in shoppers, according to The Grocer's annual Top Products Survey.
The dessert maker added £11.4m in value as it hit £60m of retail sales – its best-ever performance in supermarkets – with volumes surging 13.2% as NPD was ramped up and the range broadened into new areas of the category.
As well as holding a market share of about 20% in the UK, Gü has also built a strong presence in France and Germany.
Annual revenues reached £48m in the year to 27 September 2019, according to the latest available Companies House accounts, with further growth expected in the 2019/20 financial year.
It represented a doubling of turnover since Noble took control of the business in 2009, when it fought off competition from the likes of Mars and Nestlé to acquire Gü.
One dealmaker said questions remained around export capabilities after a failed push in the US back in the early 2010s.
"There are also capacity issues given how much the business has grown recently, so a new owner would need to invest more to continue that growth," he added.
"Questions have also been raised about how much room there is to continue to stretch the brand outside the current product base.
"And, indulgence might be on trend at the moment, but the bigger trends attracting M&A interest continue to be plant-based and health & wellness."