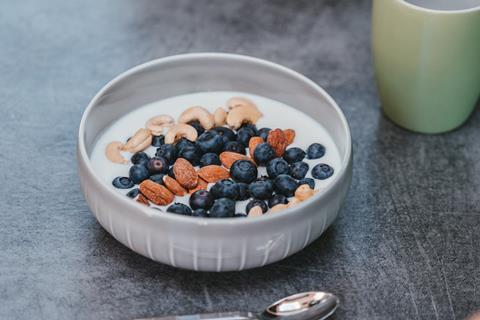 Yoghurt is looking like the poor relation of dairy. While cheese, milk and butter have all enjoyed laudable gains this year, sales of yoghurt and potted desserts have been disappointing by comparison. Value is more or less flat while volumes have dipped into the red.
The story of the category is one of highs and lows – especially for brands. Own-label benefited from "an increase in options and quality at lower prices" says Nielsen analyst Vanessa Pollard, with volumes up 4.5% on the back of a 3.8% fall in average price.
Brands, she points out, were very much a mixed bag. There were some real winners here – typically brands with on-trend propositions such as probiotics, kefir and protein. But total branded sales rose by just 0.4% in value as half of the top 20 brands suffered decline. Left behind were "legacy brands who hadn't refreshed" their positioning in areas such as calorie control, Pollard says.
This is evident in the fortunes of former category leader Müller Light. After years of declining revenues, it's shed another £16.2m.
The challenges facing the brand "are well documented" says its head of category Carol Hand, who admits it has been the victim of "constant shifting consumer behaviour".
However, she insists a spate of NPD this year, alongside a big push set for 2021, "can not only shake up, but grow the diet and low-fat market" by broadening Müller Light's appeal and attracting new audiences.
It may have to talk about health differently, if the winning brands in the category are anything to go by. Gut health seems to hold an ongoing appeal. Yeo Valley, for example, enjoyed a 5.6% increase in value, buoyed by a strong showing in NPD such as gut-friendly kefir. There were also super thick and kids' pouch variants, plus a 'Put Nature First' campaign in September designed to "drive understanding of our sustainability credentials".
Mark Scannell, head of category at Danone, also says its Activia brand has benefited from being a "trusted" name offering "health benefits such as immunity and gut health". It's grown sales by 3.8% this year, although that was entirely driven by a 6.3% increase in average price.
On the other side of the coin, indulgence is also drawing in the punters. For proof, look no further than Gü. It enjoyed the category's biggest growth, adding £11.4m. That represents the brand's best-ever year in retail sales, says marketing director Amy Heap.
A 13.2% surge in volumes was powered by a major NPD push, including a trio of mousses and the brand's first lower-calorie range.
"Our strategy has been to broaden into new dessert segments and premiumise the category, creating new, restaurant-quality products that add value for our retailers," Heap adds.
Top Products 2020
In association with Nielsen
Top 20 Yoghurts & Potted Desserts
£m
£ change
%
Total volume change:
–1.0%
Total Category:
1,952.40
8.5
0.4
Total Own Label:
541.1
3.1
0.6
This year's rank
Last year's rank
Brand
Manufacturer
£m
change (£m)
change (%)
1
1
Müller Corner
Müller
147
–0.6
–0.4
2
2
Activia
Danone
140
5
3.8
3
3
Müller Light
Müller
117
–16.2
–12.2
4
4
Yeo Valley
Yeo Valley Farms
106
6
5.6
5
5
Fage Total
Fage
63
4
5.8
6
6
Onken
Emmi
60
1
1.9
7
8
Gü
Noble Foods
59
11
23.8
8
7
Cadbury
Müller
53
–2.4
–4.3
9
10
Alpro
Alpro
47
5
12.6
10
9
Petits Filous
Yoplait
43
–0.2
–0.5
11
13
The Collective Dairy
The Collective Dairy
36
0
0.5
12
12
Arla
Arla Foods
35
–1.3
-3.7
13
11
Müller Rice
Müller
34
–4.5
–11.7
14
14
Munch Bunch
Nestlé
32
–0.7
–2.1
15
15
Light & Free
Danone
31
–1.1
–3.4
16
16
Oykos
Danone
30
0
1.4
17
17
Yoplait Wildlife
Yoplait
28
–0.3
–1.0
18
20
Müller Bliss
Müller
24
4
18.8
19
18
Frubes
Yoplait
21
1
3.1
20
21
Lancashire Farm
Lancashire Farm
18
2
11.0
The Grocer's Top Launch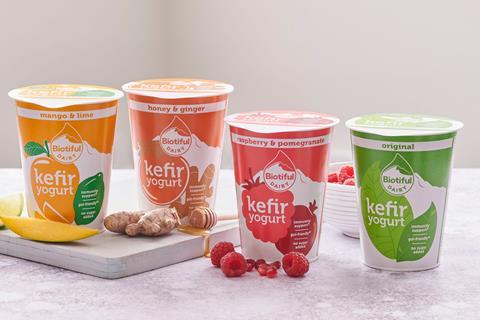 Kefir Yogurt, Biotiful Dairy
Gut-health dairy brand Biotiful followed moves into cottage cheese and kefir shots this year by adding a four-strong range of yoghurts. Original, Raspberry & Pomegranate, Mango & Lime and Honey & Ginger were unveiled in November, made with real fruit and fermented British milk. Biotiful founder Natasha Bowes says the quartet is designed to capitalise on the pandemic-linked spike in demand for products that promise to support the immune system.