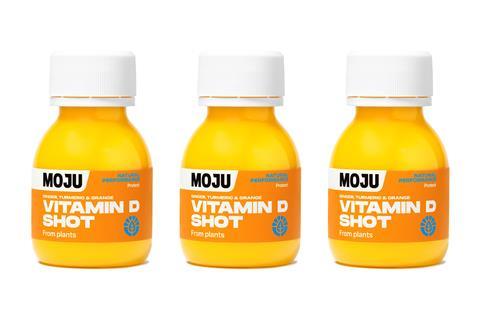 Healthy drinks brand Moju has secured £2.5m in funding in a round led by the investment arm of French dairy giant Danone.
It is the first investment in a UK-based business for Danone Manifesto Ventures (DMV), which launched in 2016 and backs innovative food and food-tech companies.
Other investors in the £2.5m round included former Graze COO Tom Carroll, former HelloFresh COO Roger Hassan, and Dave Nolan and Kevin Glynn, founders of DTC fresh dog food brand Butternut Box, as well as Arsenal defender Hector Bellerin.
Founded by Rich Goldsmith and Charlie Leet-Cook in 2015, Moju has pioneered a range of functional 60ml shots made with healthy and natural ingredients.
DMV said Moju were "a unique brand" and had been early in identifying a emerging consumer demand for healthier, functional food and drink.
"Moju is a thriving omni-channel business with a smart and strong team that are addressing the fast-emerging consumer needs for natural functional and experiential products," DMV head of Europe Paul Chifflet added.
"We are excited to be partnering with the team on their next phase of growth."
Moju has a range of four ready-to-drink 60ml shots (ginger, turmeric, vitamin C and vitamin D), as well as 500ml dosing bottles, including a new pre-biotic variant focusing on gut health.
Its products are available in wide range of retailers, including Sainsbury's Waitrose, Ocado, Amazon, Boots, WH Smith, Whole Foods and Planet Organic, as well as in speciality cafes, delis and indies, and online in its own DTC shop.
The business recorded double-digit growth in 2020 as consumers turned to healthier brands during the coronavirus pandemic, with the importance of vitamin D thrust into the spotlight. It forecasts retail sales will hit around £9m in 2021.
"We've built Moju from a kitchen table to trailblazing the insurgent functional shots category that's been in high double-digit growth year-on-year since 2016," co-founder Rich Goldsmith said.
"We focus on a harmonized channel approach, using retail and subscription DTC to meet the ever-evolving needs of consumers seeking to optimise their health, wellbeing and performance.
"We're building on the momentum our awesome team generated in 2020, and we're super excited to accelerate out of the other side of the pandemic where we can help people from all walks of life to optimise their health and daily performance through better nutrition, all whilst reducing our footprint through more sustainable ways of doing business."
DMV has invested in various companies across the world, including Harmless Harvest, Forager Project, Farmer's Fridge and Nature's Fynd in the US, Michel et Augustin, Yooji, Agricool, Phenix and Nous-Antigaspi in France, and Epigamia in India.