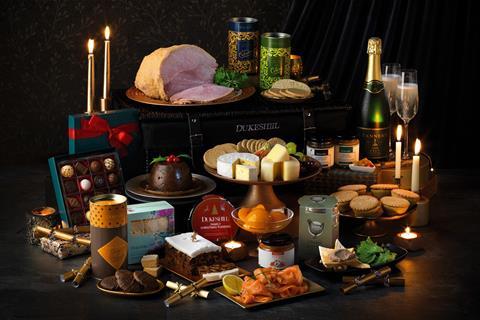 The supplier of ham to the Queen, Dukeshill Ham Co, has been bought by private equity investor GC Investment Partners.
The management buy-in team comprises executives Mark Gallagher and Andy Culhane of GC Investment Partners along with chairman Des Smith, former CEO of Aspall Cyder.
Neale and Sarah Hollingsworth, who have led the fine foods business since 1998, will remain with the business and work alongside the new owners for the foreseeable future.
Dukeshill, based in Shropshire since it was founded in 1985, holds the Royal Warrant as manufacturer and supplier of ham to HM the Queen.
Dukeshill produces and supplies a range of premium quality foods direct to consumer via both online and mail order and to a number of high-end trade partners. Its products span a wide range of meats, charcuterie and delicatessen items, cheeses, fish, puddings and cakes as well as seasonal items such as Christmas hampers.
Companies House documents show the business has been wholly owned by the Hollingsworth family since buying it from founder George Morley.
"Neale and Sarah have done an incredible job over the past 23 years, creating a brand that is synonymous with the highest quality products and excellent customer service," Mark Gallagher commented.
"We strongly believe in the potential of Dukeshill to become the UK's leading fine foods brand and we are committed to maintaining the company's core values in order to achieve this as we work alongside Neale, Sarah and the incumbent team in the next phase of the company's development."
Neale Hollingsworth added: "It was extremely important for us to feel that we have selected buyers who share our ethos of quality in both products and service; we wish the new owners well for the future as Dukeshill continues to grow its portfolio of fine foods and its loyal customer base."
Springboard Corporate Finance advised the shareholders of Dukeshill on the deal.