Acquiring the frozen food specialist is a step towards becoming a credible weekly grocery shop destination, says MD Barry Williams
Poundland's transformation has produced no shortage of surprises. Over the past year, it has introduced everything from new price points to booze to frozen and chilled food.
It's been hard to know which of these will stick, as the brand has described many of the measures as pilots.
But at the end of last week, we learned it was deadly serious about at least one with its acquisition of frozen food specialist Fultons Foods. The Grocer spoke to Poundland MD Barry Williams about what it means.
Distribution
Poundland has already been selling around 400 frozen and chilled food lines, with a focus on brands and 'everyday' staples, since October last year. Launched as a pilot in a single store in Ashbourne, the frozen and chilled 'shops in shops' have since rolled out to about 70 Poundlands.
Fultons has been supplying the range since the start. The business has 80 north of England stores, ranging from 2,000 to 6,000 sq ft, but this deal is not about the estate.
The reason it is transformational for Poundland, says Williams, is "because it creates the infrastructure to enable us to do this on a national scale".
"We're going to roll out [frozen and chilled] to over 500 stores over the next two years. What we've acquired is capability and skill: capability in terms of the distribution centre, the trucks, all that kind of stuff that allows us to manage chilled or multi-temperature products.
"And then the skill set. There are colleagues there with 20, 30 years' service, and they're ingrained in not only chilled and frozen – and some ambient grocery – but really in that discount mentality as well."
The plan is for Fultons' depot in Barnsley to become Poundland's national distribution centre for frozen food and regional DC for chilled, supplying the latter to stores in the Midlands and north. Meanwhile Poundland's warehouse in Harlow will gain a chiller unit to become a second regional DC serving stores in the south.
For the workforce of Fultons, which saw sales drop 5.7% to £53.4m in the year to February 2019, it brings "stability in a very unstable world," says Williams. He promises no jobs will be lost and over 1,000 new ones are to be created, many in the DCs, as Poundland invests £25m over the next two years.
Stores
The Fultons estate essentially falls into three categories. The most suitable stores will be converted into Poundlands – just as the business did with 99p Stores branches after acquiring that chain in 2015.
Other Fultons will be closed and the nearby Poundland branches will get the own brand frozen and chilled proposition that is rolling out to other stores.
Those that are not suitable for converting into Poundlands, but remain viable standalone Fultons stores, will continue to trade as such, says Williams.
"It's not unusual for us to do this," he says, pointing to the closure of some of sister retailer Pep&Co's branches as the proposition rolled out as 'shops in shops' inside Poundland.
"Remember, we've got 20-odd standalone Pep&Co stores at the moment," says Williams. "The first question we're asking ourselves is 'is it a viable unit?' And if it is and it contributes, why wouldn't we keep trading it?
"The only difference [from Pep&Co] is where we've incorporated Pep&Co within the store, obviously we've kept calling it Pep&Co because that's the consumer-facing brand. Where we incorporate the Fultons products in the store it doesn't need the Fultons branding."
The closures will come without job losses because Poundland will "bring all the colleagues across" into its nearby stores.
Which stores get which treatment is already being decided.
Grocery ambitions
Frozen and chilled grocery shopping may seem a long way from Poundland's original single-price proposition, but it's an opportunity too big to be ignored, argues Williams.
"We serve seven million customers a week and on average they each spend a fiver with us," he says. "I can give you the really simple overview of our strategy, which is to get them to spend six quid.
"One way of doing that is expanding deeper into existing categories, so that's our move to simple [multiple] prices. Another is introducing adjacent categories that are relevant. Two massive categories that are adjacent to us and really relevant to our customers are chilled and frozen foods.
"If you take frozen foods alone, it's worth £6bn. In terms of total grocery, we've got about 1%-1.5% market share, so if I just got my fair share of that frozen food market it's going to be anywhere between £60m to £100m turnover a year. That would put 5%-6% of like-for-like on the business.
"But it's not just frozen, it's chilled as well, and chilled is a much bigger market."
If it's beginning to sound like Poundland is aiming for the full weekly grocery shop, it "absolutely" is, says Williams.
"Not only do I envisage it but it's happening" in stores where frozen and chilled has been trialled, he adds.
"It begins to cement us in customers' minds as a genuine top-up if not full weekly shop," Williams argues. "If they're going to buy their frozen and chilled off you, they will reappraise what your grocery offer looks like and you'll get a halo effect on that, and that's definitely what we've been seeing."
Timing
That increase in basket spend has been partly down to the broadening proposition but also partly down to lockdown, Williams acknowledges.
"Customers are much more purposeful in their shopping missions, so they want to visit fewer shops and get more of their needs in one outlet if they can," he says.
If the trial received a boost from lockdown, so too is the Fultons acquisition fortuitously well timed, he says. That's because it positions Poundland to roll out its value frozen and chilled proposition as a deepening recession stretches consumer budgets.
"In these next two years, unfortunately but in all likelihood, the country is going to go into a pretty tough recession," Williams says. "While everyone else if going to be battening down the hatches and switching lights off and saving money left, right and centre, here's little old Poundland swimming against the tide, investing millions changing our proposition and attracting new customers and getting even greater loyalty out of existing ones."
As he sums up: "I know what I'd rather be doing."
Poundland's 22 months of transformation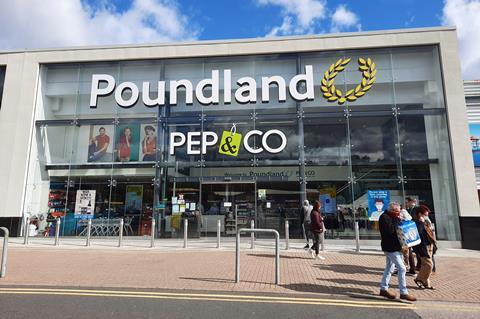 January 2019: Poundland creates a new "business transformation team" headed up by Mat Ankers as transformation director
August 2019: Shops introduce new price points, including 50p, 75p, £3, £4 and £10, in addition to existing £1, £2 and £5. The new price points are used to expand fmcg and add more brands.
October 2019: The first frozen and chilled 'shop in shop' is introduced in Ashbourne
July 2020: Plans to sell online from early next year are announced in what Poundland is now calling the "biggest transformation in our history"
September 2020: BWS shops in shops are introduced in three pilot stores. A new Pep&Co homewares range has been rolled out across the 850-store estate.

Steve is deputy news editor at The Grocer.

He's responsible for covering online grocery and the discounters, and for editing The Grocer's analysis features. He's an experienced journalist who has contributed to a range of national newspapers including The Mail on Sunday.

Follow Steve on Twitter: @Steve_Farrell_