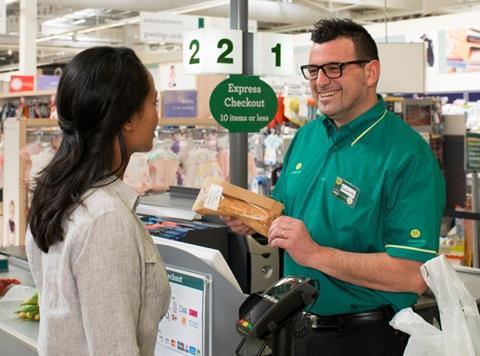 Morrisons is re-introducing staffed express checkouts to its supermarkets this week in a move it says will offer customers a quick and personal service, and more choice at checkouts.
The express lanes will serve shoppers with ten items or less. Morrisons said it was responding to customer feedback and cited figures from Kantar Worldpanel which gauge the average basket size in the UK at 11 items costing £15, with shoppers visiting stores approximately five times a week.
"We're listening hard to our customers and responding quickly wherever possible. If customers from time to time do smaller shops, they want to get in and out of our stores quickly," said Morrisons CEO David Potts.
"We are responding by introducing express checkouts which shoppers with ten items or less can use. These checkouts - and our very helpful staff - will offer a quick and personal service, helping to keep queues low and improving thousands of shopping trips."
Two express lanes will be introduced at each of Morrisons 504 supermarkets nationwide. They will be run from existing checkout units within each store. One will be operational from 8am to 8pm and both during daily peak shopping periods of 12-2pm and 4-6pm.
Their addition means Morrisons will offer customers three payment options in store. Standard checkouts will cater for larger trolley shops, whilst self-checkouts and manned express checkouts will give customers more choice for smaller shops.
The move follows the removal of Morrisons Intelligent Queue Management system in March 2015. Staff now use their own judgement to decide how many checkouts to open rather than being guided by a computer system.