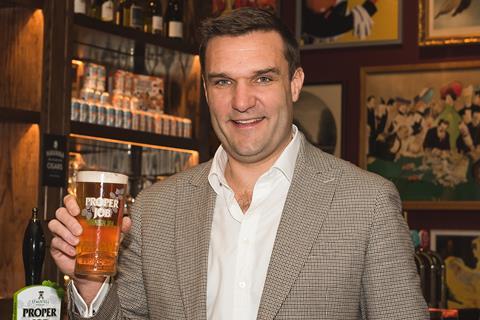 Independent Cornish brewer St Austell Brewery has appointed Andrew Turner to the newly created role of MD for beer and brands.
Currently working his notice period at Heineken UK, Turner will lead St Austell's own-beer and wholesale drinks business. St Austell brews the likes of Tribute Cornish Pale Ale, Proper Job IPA and Korev Lager for pubs and supermarkets.
"I am delighted that Andy will be joining St Austell Brewery," said CEO Kevin Georgel, who took the reins at the pub company a month ago.
"With almost 20 years' experience and success gained within Heineken UK, he brings the ideal experience, talents and personality to complement the skills of the existing team, and to lead our beer and brands division into its next exciting chapter."
Turner added: "I am absolutely thrilled to be joining St Austell Brewery – a wonderful family business, which brews fantastic beers and runs great pubs, both of which are very close to my heart.
"It's a really exciting time to join the business. I believe St Austell Brewery is very well placed to benefit from the resurgence in consumer interest in beer, coupled with the increasing importance of authenticity and community.
"I am very much looking forward to joining Kevin and the team and taking the business on to its next stage of growth."
St Austell Brewery, which has been brewing beer in Cornwall since 1851, runs 180 pubs, inns and hotels across the West Country and employs more than 1,500 staff.