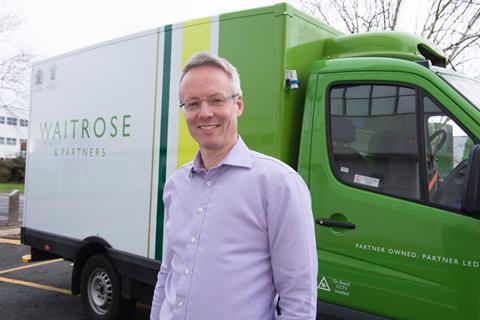 John Lewis Partnership has signalled the strategic importance of the Waitrose online business in its new Future Partnership plan by keeping current digital director Ben Stimson in place to concentrate on the grocer's growth in e-commerce.

Stimson will now report directly to new chairman Sharon White, who took charge of the group at the start of February.

It highlights the seniority of the widened role, with Stimson previously reporting to Waitrose MD Rob Collins, who has now left the business as part of the radical management overhaul enacted by outgoing chairman Charlie Mayfield.
"It's such an exciting time for me to be leading waitrose.com," Stimson said. "From a modest start a few years ago to soon being the only place to get Waitrose products online from September.
"We've got a lot planned to build on our current momentum - from our website and apps, to our service and product innovation."
Stimson is the only remaining member of the old Waitrose food board who will report directly to White, rather than one of her seven lieutenants on the new JLP executive board.

JLP also confirmed to The Grocer that Ross Avery and Jo Walmsley - finance director and personnel director respectively on the former Waitrose executive board - have survived the management cull, which has seen 75 senior managers leave JLP.

Avery is now director of strategy, reporting to Nina Bhatia, who starts as executive director for strategy on the new JLP board later this month. Walmsley, who had a pivotal role in the Future Partnership shake-up as one of the 'transformational leads', reports to executive director for people Tracey Killen as the new director of people capability.

As reported by The Grocer last month, Waitrose commercial director Rupert Thomas has a new role as director of food and grocery, customer director Martin George became director of marketing and IT director Mike Sackman was appointed chief information officer.

All the former Waitrose executive roles are now pan-brand, working across both Waitrose and John Lewis, and reporting into the relevant director on the new JLP executive board.

Stimson's new role is unique in that it focuses solely on Waitrose, and hitting the three-year target set in 2019 to treble the size of Waitrose.com into a £1bn business.

A statement from JLP said Stimson's role had responsibility for ensuring digital was at the heart of the retailer's business strategy.

Mayfield, in one of his last acts as JLP chairman, hailed booming online grocery sales at Waitrose over the festive period, with 16.7% growth in the seven weeks to 4 January 2020 and a 23.4% jump in the seven days to Christmas.

He added he hoped 2020, which will see Ocado end its partnership with Waitrose and start a JV with M&S, would be a year of "dramatic growth" for the supermarket's online business.

A spokeswoman for JLP told The Grocer this week the retailer was on track with plans to increase Waitrose.com to around 15% of its total sales (or £1bn) by 2022. Weekly orders were already more than 10% up year on year, she added.

Stimson will hold responsibility for online business growth and "ensuring the retailer responds to the dynamic online grocery market" she said.

Prior to the new JLP structure coming into effect at the start of this month, Stimson reported to Waitrose MD Rob Collins as digital director.

Before that he was retail director for five years. During that time, in addition to holding responsibility for the retailer's shops, Stimson also led online strategy, developing Waitrose.com into a brand able to manage increased capacity.

Waitrose.com is delivered from Waitrose shops across the country and currently covers more than 84% of active UK postcodes.

A customer fulfilment centre in Coulsdon works alongside shops to deliver in the South London area, with a second CFC set to open in the coming months in Enfield to deal with demand in North London.