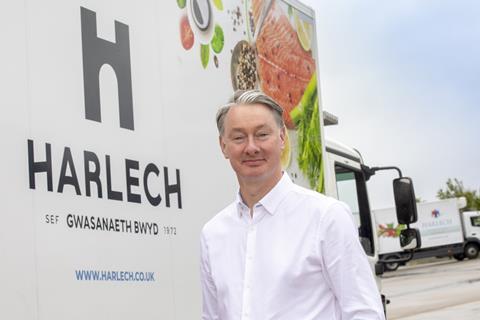 Welsh wholesaler Harlech Foodservice has appointed David Cattrall as MD to restructure the business as it rebuilds following a "massive drop" in sales.
Cattrall was initially appointed as a non-executive director in January with a view to becoming MD at the end of this year. However, coronavirus has accelerated the process.
The family-owned company saw orders drop by 95% when the hospitality industry was shuttered during lockdown.
The loss of revenue led to a review of the business' operating procedures, which has resulted in a consultation affecting 16 jobs, accounting for just under 10% of its workforce.
The company expects a lengthy and uncertain 12-month recovery period, but has seen sales bounce back to 80% during the first week of August compared with the same week last year, and expects to finish the month at 90%.
The North Wales wholesaler aims to increase its annual turnover from £33m to £50m over the next five years.
Cattrall and the senior management team have already introduced a number of key changes to enable this growth.
Harlech has brought in a fixed, transparent pricing strategy on a core range of products including oil, chicken, milk and chips.
It has also extended the next-day delivery deadline to 10pm for online orders, while it is planning to introduce a new Amazon-style website to replace its existing platform.
"We want to make it much easier for people to buy from us so we'll move to a modern website and app to enable customers to search more easily, just like Amazon, so you can compare range, price and product information and make an instant decision," said Cattrall.
Cattrall also plans to expand Harlech's customer base by diversifying into the education and healthcare sectors along with geographical expansion plans to serve customers in the north west of England and the Midlands.
"We're delighted to have been able to appoint David to take Harlech Foodservice to the next level," said owner and director Andrew Foskett, previously joint MD with his brother Jonathan. "Current circumstances have dictated that he has taken the reins sooner than we originally envisaged but David is the right person to help us navigate this difficult period and lay the foundations for the future.
"He has a hugely successful track record in the food industry and his vast experience and drive will help us grow, develop and prosper as a business."
Cattrall, a former sales director of Booker Wholesale's catering division, added: "Our aim is to change the focus of the business to allow us to grow. The current crisis is forcing us to adapt and we are aiming to make changes with the future in mind."