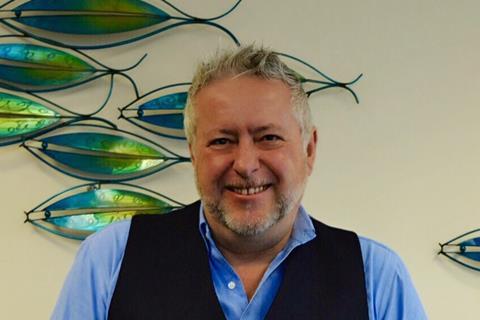 Young's Seafood's new owner Karro Food Group has appointed Seachill boss Simon Smith as its new CEO, replacing Bill Showalter, who will leave the business at the end of the month.
Smith, who will start in his new role on 21 October, boasts a career spanning more than 30 years in the food sector with the likes of GSK, Diageo and Northern Foods. He joined Seachill's previous owner Icelandic Group in 2009 as group sales and marketing director, and was behind the launch of its Saucy Fish Co brand in 2010.
Appointed MD of the group's UK business Icelandic Seachill in 2014, he played a key role in the growth of the Saucy Fish Co brand both in the UK and overseas, and oversaw several big supermarket contract wins by the supplier – including a major strategic partnership with Tesco in 2016.
Smith retained his management role when the business was acquired by red meat giant Hilton Food Group as part of an £81m deal in October 2017.
After his experience of integrating Seachill into the Hilton business, he will join Young's as it embarks on its own integration into a wider meat supplier, following its acquisition by Karro earlier this month.
Smith had "extensive retail experience", said Karro group CEO Di Walker, and was "known and respected throughout the seafood industry for his achievements with Seachill and the development of the Saucy Fish brand".
He said Young's and its new owner Karro – which was acquired by private equity investor CapVest in 2017 – was now "ideally placed across multiple categories to truly inspire people to love fish and embed its position as the UK's leading seafood company".
Showalter joined former Young's parent Findus Group as chief financial officer in 2014, where he oversaw the sale of the Findus Group's Continental European businesses to Nomad Foods.
He has held the post of Young's CEO for the past three years, and has played a key role in delivering the company's strategic plan.
Karro said Showalter secured more than £200m-worth of long-term, own label contracts with two of Britain's leading retailers "and successfully diversified the company through the growth of its foodservice operations and the launch of the Young's brand in the US market".
He left Young's as the UK's "leading fish and seafood company, holding both the number one position in chilled and frozen sales", said Walker, who will step into the role of acting CEO until Smith joins the business.
After overseeing the sale of Young's, Showalter said the time was now right to move to the next stage of his career.
"With the acquisition by Karro, I am confident that Young's has a strong foundation from which it can drive growth, providing exceptional-quality fish and standout innovation to countries around the world."
Hilton Food Group declined to comment on who would replace Smith at Seachill.