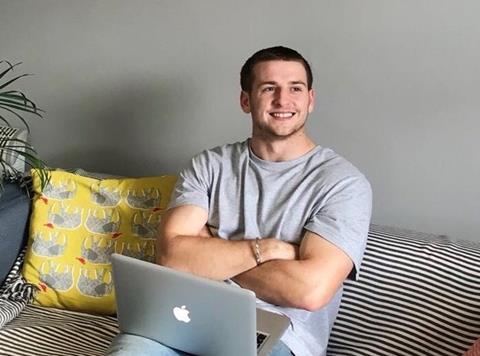 Name: Calum Walker
Age: 23
Job title: Commercial Manager
Company & location: VIT HIT, London
Education: Leeds Beckett University, Sports Coaching BSc Hons
Why did you decide to go for a career in food? It began with a friend of a friend seeing a Facebook status and passing on the details to me, the next thing I knew I was moving down to London straight from University. It was a fortuitous event that lead me into this career initially – however now I have experienced the rapid speed that the industry moves at, the wide variety of work that you can be involved in and also the brilliant people I've met, I can't imagine working outside of the Food & Beverage industry.
Explain your job to us in a sentence (or two): I oversee all aspects of our grocery and retail customers, as well as leading the acquisition of new customers…in addition to this I'm COO (chief operator of office music) in VIT HIT HQ
What does a typical day look like for you? I start my mornings in the gym to get myself in the right headspace for the whatever the day is going to throw at me. I find being in a team of 4 in a rapidly growing business means that there is no typical day, and you are constantly having new challenges thrown at you. As you'd expect there is the day to day commercial work that needs doing to ensure we are tracking on or ahead of target. Getting out of the office and educating myself on what is currently happening in the industry is as important as all of the above too, whether that is talking to store managers or meeting peers. I believe it gives you a deeper understanding of the issues people face and allows me to find a way to overcome them.
Tell us about how you went about applying for your job. I was ready to take the next step in my career and really push myself. VIT HIT was a product that I had the pleasure of enjoying prior to applying for the role, so naturally that made it an attractive opportunity, particularly given my sporting background. After meeting the team for a relaxed first interview, I was sure that this was where I wanted to be next. The second interview was completing a mock buyers meeting and commercial proposal with the Sales Director, which was definitely a bit more intense than a coffee and a chat.
"The SME food and drink businesses in London have an amazing presence and community"
What's the best part about working for a food company? Definitely the people that I have met. I've been able to learn so much from some brilliant people. The SME food and drink businesses in London have an amazing presence and community, it genuinely feels like we're a big team all working for each other. Also, freebies are never disappointing.
And what's the biggest misconception people have about working in food & drink? I think particularly in small businesses people underestimate how much goes into trying to make a brand a success and what it takes to transform a concept in your head into a viable on shelf product.
What advice would you give to other young people looking to get into the food & drink industry? You need to be resilient no matter what area of food and drink you work in, you'll always come up against obstacles, you need to hold your ground and see it through.
What's your ultimate career dream? I believe that people are definitely the number one asset of any operation, so I'd love a leadership role that allows me to work with brilliant people and get the most out of them, whether that's my own brand or helping fulfil someone else's vision is yet to be decided. I firmly believe that if you work hard, are passionate and enjoy what you do you're never too far from success.