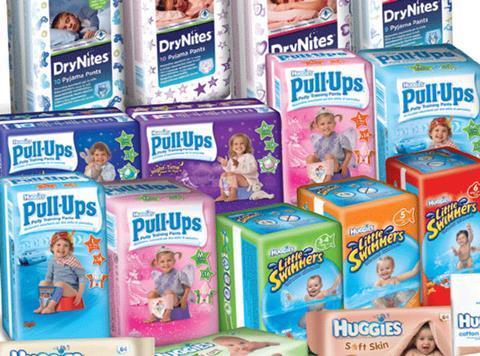 Shoppers bought 128 million fewer nappies from stores in 2013 than they did a year ago – despite Britain being in the middle of a baby boom.
Online-only retailers have taken share from the mults, suggest some industry observers, and overall sales of nappies in supermarkets and chemists have fallen 3% by value on volumes down 3.9%, according to Nielsen data presented in The Grocer's 2013 Top Products Survey.
Savvy parents are said to be switching to the likes of Amazon, which offers a Subscribe & Save service that gives discounts and allows shoppers to have products regularly delivered without having to re-order them. A dedicated 'Pampers Store' on Amazon offers parents such deals on Britain's top-selling nappy brand.
"Once brands were best, but mums now realise there's no need to pay a premium price for a good quality product"

Aldi
"Amazon has taken a decent slice of the market through its various subscription programmes and – with discounters also doing increasingly well in baby – the supermarkets must be under some pressure," said Bryan Roberts, director of Retail Insights at Kantar Retail.
Branded players have come under increasing pressure from own label. Overall own-label nappy sales have soared 37.3% by value – an increase of £38m – while brands have fallen £52.8m.
The majority of the decline in brand sales is due to Huggies pulling out of the core nappies market late last year but value sales of Pampers also fell year-on-year despite the exit of its biggest rival.
"As we said this time last year, we knew own label would present strong competition and this has been the case," said a spokesman for Pampers owner P&G. "We're continuing to focus on Pampers' role in the market to bring the latest technology and innovation to provide the best performing products for parents."
Aldi, meanwhile, said it had doubled sales of its own-label range. "Once brands were best, but mums now realise there's no need to pay a premium price for a good quality product," added a spokesman for the discounter.
With the overall decline in the market coming at a time when the British birth rate is at its highest since 1971, according to the Office for National Statistics, other observers suggest parents may be looking for alternatives to disposable nappies.
"They may consider washable nappies more environmentally friendly or better for their babies," said a Mintel report published earlier this year. "The switch to washable nappies has been encouraged by some local authorities."
See this weekend's 192-page issue of The Grocer for our annual Top Products Survey that includes full details of the winners and losers in the nappies market – and 99 other FMCG sub-categories.