Frozen, bottled or ready to drink straight from the can, summer-ready cocktails are launching in all shapes and sizes as drinks brands prepare for the months ahead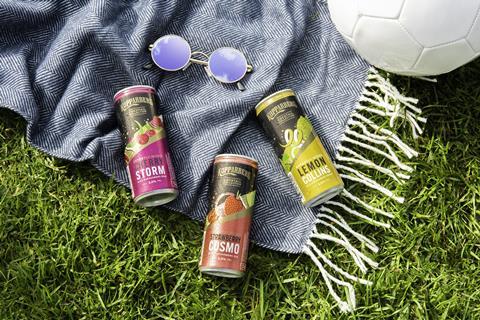 Kopparberg
Kopparberg has found a new way to showcase its range of fruit-infused spirits: with a three-strong range of canned cocktails. According to the brand, each recipe puts "an exciting, flavourful spin on cocktails already well-known and loved". Strawberry Cosmo, made with sparkling cranberry juice, is a take on a classic Cosmopolitan, switching the traditional vodka base for Kopparberg's Strawberry & Lime Gin. Cherry Storm combines the brand's Cherry Rum with lime and ginger beer to recreate a Dark 'n' Stormy, while Lemon Collins comprises Lemon Vodka and soda in a twist on the gin cocktail, Tom Collins. The drinks land initially in Morrisons and Asda this month before rolling out further (rsp: £2/250ml).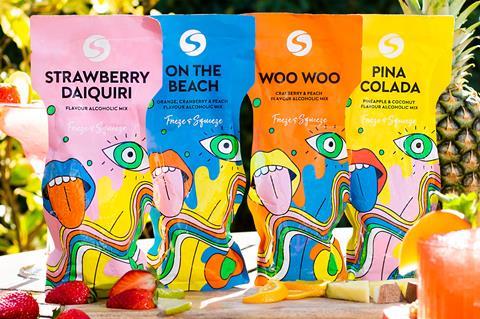 Shuda Pouches
Available in Pina Colada, Strawberry Daiquiri, Woo Woo and On The Beach variants, these colourful cocktail pouches from Manchester Drinks Company's Shuda range landed in Iceland and Savers in early April (rsp: £1/250ml). The pouches are removed from the freezer 10 minutes before serving and squeezed into a glass for a perfectly chilled cocktail.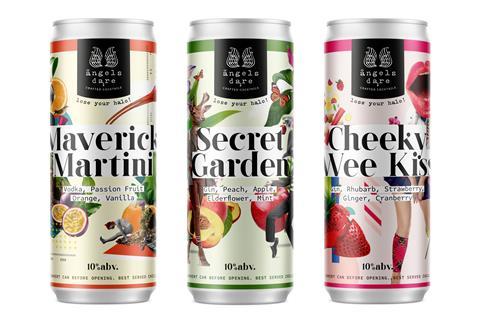 Angels Dare
Who says canned cocktails can't be classy? Scottish brand Angels Dare claims its new trio of drinks is 'bar quality', complete with a 'premium' abv of 10%. The lineup features Cheeky Wee Kiss, which combines dry gin with strawberry, rhubarb and ginger, Maverick Martini, a vodka-based cocktail with passionfruit, vanilla, orange and lime, and Secret Garden, which is a "gently fizzing fusion" of dry gin, peach, elderflower, apple, lemon and mint. They have been on sale on the brand's website since March (rsp: £5.50/250ml).
Tails
Previously only available in the on-trade, Bacardí's Tails bottled cocktail range has been given new packaging and recipes for its launch into retail. Each drink in the lineup, which includes Rum Daiquiri, Whisky Sour, Gin Gimlet, Espresso Martini and Passion Fruit Martini, is made with a different Bacardí spirit brand. There are four 125ml servings per bottle, which consumers simply combine with ice, shake and pour. The range launched online and in Tesco, Waitrose, Morrisons and Sainsbury's in April (rsp: £15/50cl).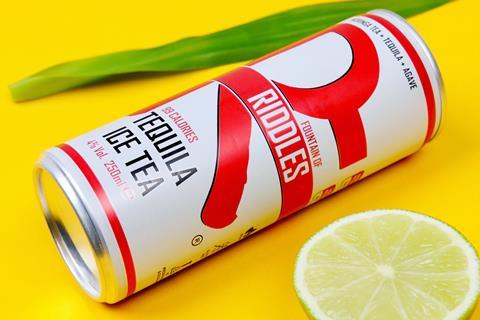 Riddles Tequila Ice Tea
Billed as the UK's first canned tequila iced tea, Riddles is the creation of chemist Charles Odunukwe, who saw a gap in the market for "pre-mixed cocktails with a nourishing element". The cocktail blends premium tequila with Nigerian moringa leaves, which offer a "distinctive taste" as well as "healing" antioxidant properties. Containing 99 calories per can, the 4% abv drink is sweetened with agave as a healthier alternative to sugar. It is available to buy from Amazon and the Riddles website (rsp: £1.80/250ml).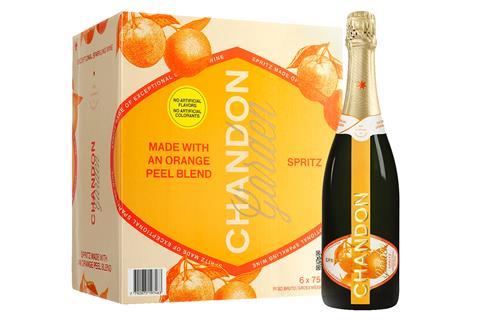 Chandon Garden Spritz
Bitter orange spritz drinks such as Aperol are a staple over the summer months. But with multiple ingredients to combine, they aren't the the most convenient for picnics and other on the go occasions. Chandon is offering a solution with its new Garden Spritz, a combination of brut sparkling wine and bitter orange liqueur. Made without artificial colours or flavours, the tipple also contains up to 50% less sugar than other aperitifs. It is available to buy from Ocado, Majestic and online wine and spirits merchant Clos19 (rsp: £20/75cl).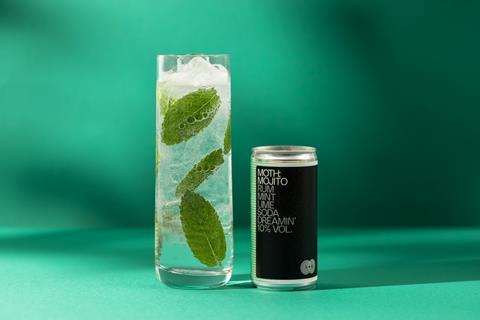 Moth Mojito
Made with Duppy Share rum, mint, lime and soda, Moth's 10% abv canned Mojito landed in Waitrose, Tesco and Sainsbury's in March (rsp: £3.99/200ml). The brand, whose name stands for "mix of total happiness", describes the cocktail as "soulful, juicy and bittersweet".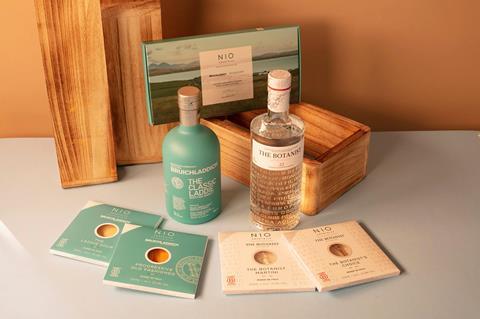 Bruichladdich and The Botanist Cocktail Box
The latest collection from ready to serve cocktail brand Nio showcases two spirits from the B Corp-certified Bruichladdich Distillery, based on the Scottish isle of Islay. Made using Bruichladdich Classic Laddie Scotch Whisky and The Botanist gin, the selection of four cocktails (rsp: £29) features Nio's take on a classic gin martini, Old Fashioned and whisky sour, as well as The Botanist's Choice, "a deliciously light, floral cocktail with notes of elderflower and chamomile".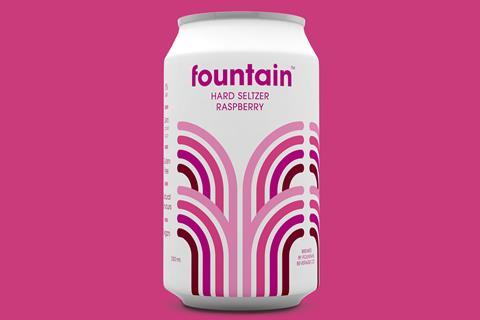 Fountain
Hard seltzer brand Fountain is expanding its range with two more fruity flavours this month: Watermelon and Raspberry. The 5% abv drinks are made using sparkling water and alcohol fermented from fruit, with no added sugar. They will be available from the brand's web store and Amazon in packs of six and 12 (rsp: £14-£25), alongside its existing Passionfruit and Mango flavours.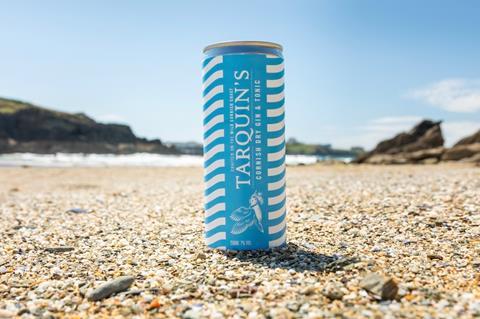 Tarquin's
Cornish distillery Tarquin's is combining its flagship dry gin with tonic and pouring it into RTD cans this summer. The drinks will be available to buy online and from Tarquin's Padstow, St Ives and Fowey shops from early May (rsp: £3/250ml).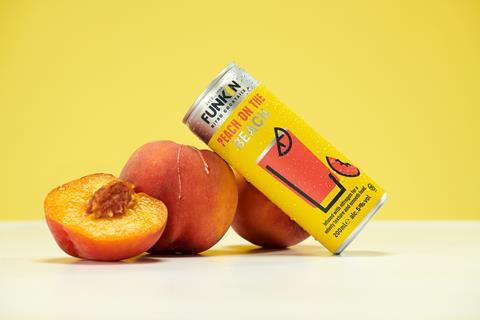 Funkin
Available in 250ml cans (rsp: £2) and 700ml bottles (rsp: £9), Peach on the Beach is the first of two new Funkin cocktails launching in time for summer. Blending vodka with peach, cranberry and orange juice, the 10% abv tipple will be available in Morrisons, Tesco and Sainsbury's. The brand is also launching a Long Island Iced Tea (5% abv). Combining cola, vodka, rum and gin with a hint of citrus fruit, the canned cocktail will be available in Tesco (rsp: £2/250ml).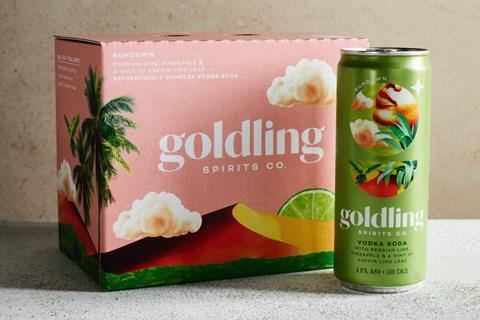 Goldling
Claimed to be Europe's first certified organic canned spirits brand, Goldling offers a duo of flavoured vodka sodas. The first, Sundown, features 'tropical' hints of Persian lime, pineapple and kaffir lime leaf, while Moonlight is a "warming" blend of British strawberries, pomegranate, cayenne and black pepper. The drinks can be purchased from the brand's website in packs of six to 24 (rsp: £17-£60).