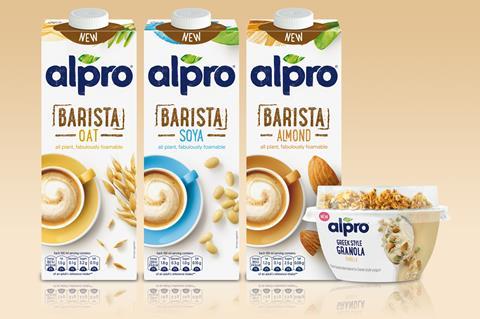 Alpro has followed its recent brand revamp with an expansion of its yoghurt alternative range and a new lineup of drinks, specifically formulated for use in tea and coffee.
Available in a single 140g pot and containing an integrated spoon, Alpro Greek Style with Granola is targeted at the on-the-go shoppers. It will go on sale in Sainsbury's on 16 September, followed by Spar from 7 October (rsp: £1.50) and is an extension to the brand's Greek Style range launched in March.
Alpro Barista, meanwhile, is available in oat, almond and soya variants and is designed to appeal to the growing number of shoppers adding plant-based milk alternatives to coffees, teas and hot chocolates at home. The brand said the drinks were "perfect for foaming or for pouring straight from the carton".
Citing research of 2,001 UK adults by Censuswide in March, the trio of drinks would cater for the almost one in three coffee drinkers now enjoying plant-based coffees at home once a week or more, and the more than one in 10 consuming these drinks every day, Alpro said. It will launch into Morrisons on 23 September, in one-litre 100% recyclable UHT cartons (rsp: £1.90).
"Plant-based hot drinks are proving a popular choice for more and more consumers at home," said Alpro UK & Ireland marketing director David Jiscoot. "With [the Censuswide] research also showing that 44% of coffee drinkers are planning to drink more plant-based coffees in the year to come, the opportunity to take this one step further with the launch of Alpro Barista is clear."
Commenting on the launch of Alpro Greek Style with Granola, he added Alpro's yoghurt alternatives was now the fastest-growing top 10 brand in the overall yoghurt category [Nielsen Scantrack w/e 29.12.18].
"When you consider the popularity of our plant-based alternative to yoghurt range in the UK, it's clear that now is the right time for retailers to capitalise on this growth via impulse sales too," Jiscoot said.