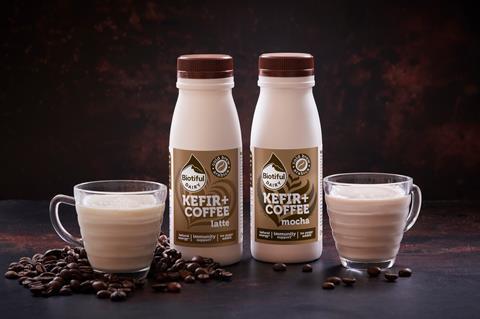 Biotiful is to expand into the iced coffee category with the launch of a Kefir + Coffee drink, in a bid to target younger consumers.
In its latest move beyond its core kefir drinks range, Biotiful's NPD will combine real kefir containing 30 billion live cultures with a shot of arabica coffee.
The new product is set to be launched in April in the front-of-store area of an as-yet-unnamed retailer and will come in two variants – Latte and Mocha (rsp: £1.60/250ml).
In line with its existing range, the NPD will also carry an 'immunity support' claim on the front of the bottles, with MD Natasha Bowes explaining Biotiful was looking to grow penetration beyond its core consumer base of over 35-year-old 'health-balancers'.
"RTD coffee gives us a significant opportunity to talk to millennials in their own language and bring them into gut health and natural immunity support. It makes that conversation and conversion easier," Bowes said.
"[The product] delivers on the luxury, treat-yourself aspect of RTD coffee but does it in a healthy way. We led with the product name - Kefir + Coffee - to land the point it's not a flavoured product but real kefir and real coffee. It's important that the range fits into our overall brand positioning as the authority in kefir."
Biotiful's coffee NPD is its latest move into dairy categories adjacent to kefir drinks over the last 12 months. In 2020, it unveiled a soft cheese trio before expanding into drinkable shots and then potted yoghurts last autumn.
It comes as the brand has experienced a sales boom during the pandemic, with sales up £4.8m (36.8%) to £17.9m and volumes leaping 39.3% year on year [Nielsen 52 w/e 2 January 2021].
Bowes said the brand's increase in sales was attributable to people drawing a link between gut health and immunity and having the time to "read up on what they're eating and what really matters [for their health]".
She pointed to the launch of the brand's one-litre bottles last September as another key driver of sales, as Covid-19 saw people consuming more food and drink in the home.