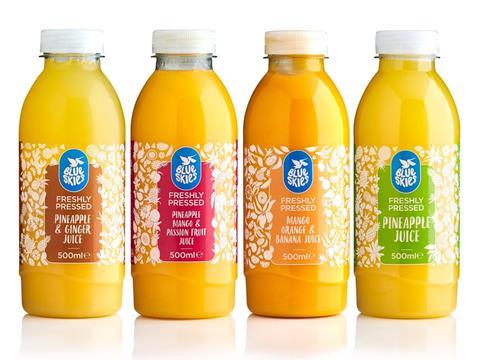 Ghanaian fruit supplier Blue Skies has further expanded its presence in UK grocery with the debut of its fruit juice range.
Following the brand's April launch of its dairy-free ice cream into Waitrose, the premium juice lineup is available through AmazonFresh in four variants (rsp: £4.30/500ml). Pineapple; Mango, Orange & Banana; Pineapple & Ginger and Pineapple, Mango & Passion Fruit are bottled in Ghana, where they launched 10 years ago.
They have no added ingredients, and do not go through any process such as HPP or pasteurisation.
"Juice is a cluttered market, so we wanted to create something that provides customers with a range that is 100% fresh fruit with nothing added or altered," said Anthony Pile, who founded Blue Skies to supply UK supermarkets with ready cut fresh fruit.
The company began in 1997 by supplying pineapple to Sainsbury's. It now has annual sales of about £100m and approximately 6,000 employees across Africa, South America and Europe.