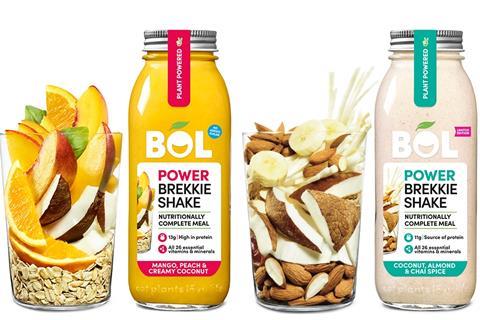 Plant-based challenger brand Bol is set to take on Huel with its own range of meal replacement shakes.
The brand has created a sextuplet of ready to drink Power Shakes, which it claims are the first meal replacements to be made exclusively from real whole foods.
Packed in glass bottles, the range includes three breakfast shakes, Coconut, Almond & Chai Spice; Colombian Coffee, Banana & Cinnamon; and Mango, Peach & Creamy Coconut, as well as three lunchtime shakes: Chocolate, Orange & Toasted Hazelnut; Acai, Beets, Apple & Ginger; and Fresh Carrot, Ginger & Turmeric.
They contain fresh ingredients such as fruit, nuts, beans and oats, and are billed as providing 26 essential vitamins and minerals.
"As a nation we often forego nutrition for the convenient choice or skip meals altogether," said Bol founder Paul Brown, adding the NPD was "the perfect solution for busy people who don't want to compromise on taste or nutrition".
The NPD marks a return to the smoothie category for Brown, who spent 14 years at Innocent - including as its general manager for food for a year - before he left to found Bol in 2015.
Bol's Power Shakes will roll into Sainsbury's, Selfridges and Planet Organic from 26 October, followed by WH Smith from 20 November (rsp: £3.50/450g).