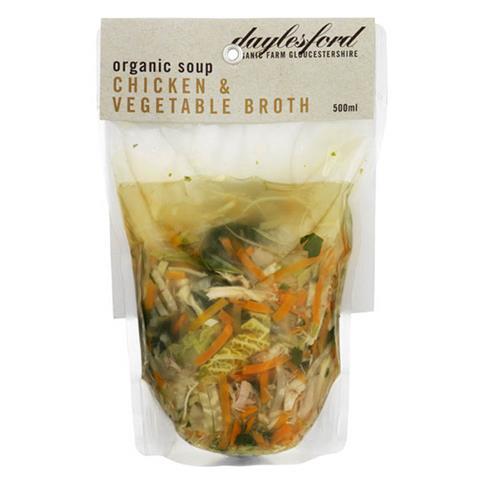 Daylesford is launching a trio of products into the burgeoning broth market.
The Gloucestershire-based supplier is this week rolling out the broths to its own Daylesford Farmshops and on Ocado in 500g pouches (rsp: £4.49). The line-up comprises an Organic 10-hour Beef Bone broth said to be detoxifying and rich in protein; Organic Chicken & Vegetable Broth containing vitamin C; and a vegetarian Organic Super Greens broth described as nutrient-dense.
The launches follow recent media hype around bone broth, which is claimed to have health benefits such as preventing illnesses and curing joint pain.
Bone broth has also been launched this month by the Osius Bone Broth Company in small pots ready to heat and drink from in two organic variants - chicken and a '100% pasture fed' beef bone broth. They will also be available in two larger formats to be kept in the fridge and used for drinking neat or as a cooking ingredient.