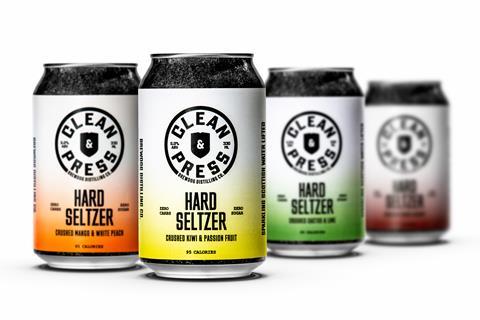 BrewDog is to launch its own hard seltzer brand, called Clean & Press.
The craft beer giant has created a quadruplet of seltzers in Kiwi & Passionfruit, Cactus & Lime, Crushed Black Cherry and White Peach & Mango flavours (5% abv).
Kiwi & Passionfruit was "layered intensely with ripe kiwi and punchy passionfruit" with "a crisp taste and quenching finish", while Cactus & Limes "delivers waves of watermelon and lychee which riff perfectly next to the zesty lime", said BrewDog.
Crushed Black Cherry, meanwhile, was "light and hard-hitting simultaneously", while White Peach & Mango was "a super-refreshing flavour bomb".
Unlike typical US hard seltzers, which are made by fermenting either malted barley or cane sugar, BrewDog's are made by mixing the brand's Rogue Wave vodka with sparkling water and natural fruit flavours, which BrewDog said made "an innovative and refreshing beverage that offers all the benefits of the seltzer category".
The drinks contain zero sugar and 95 calories per 330ml can.
BrewDog had "always looked to the future, using it to inspire the way we operate, encouraging our team to embrace innovation", said its CEO James Watt.
Clean & Press Crushed Black Cherry and White Peach & Mango are available direct from the brewer online (rsp: £30/12x330ml).
The news makes BrewDog the latest in a series of major suppliers jumping on the hard seltzer trend.
Mike's Hard Seltzer, the US brand distributed in the UK by AB InBev's ZX Ventures, announced its impending launch into Morrisons and Tesco this week after reformulating its recipes to give them "a more intense taste".
The Grocer revealed in February Tesco's plans to launch dedicated hard seltzer bays to cash in on the growing trend.