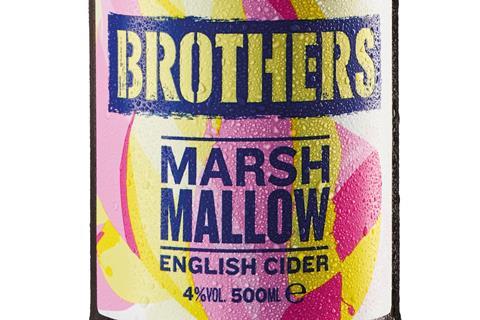 Brothers is adding a Marshmallow variant to its range of 'curious' flavoured ciders.
The 4% abv drink is "a delicious unique blend of marshmallows and sweet vanilla flavours", according to the Somerset brand.
It will launch into Londis, Budgens, B&M and James Hall Spar on 1 April, while wholesale listings will include Booker, Bestway and Parfetts.
Matthew Showering, MD of Brothers producer Showerings Cider Mill, said the "distinctive and refreshing" drink would appeal to gen Z consumers, "who are influenced by unusual flavours and social media 'talkability' in their purchasing decisions".
It follows the launch of Brothers Parma Violet, Strawberries & Cream, Rhubarb & Custard and Toffee Apple flavours last year.