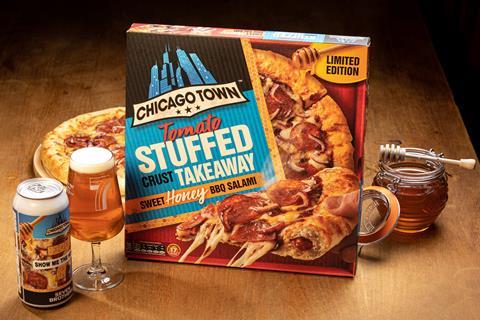 Chicago Town has partnered with craft brewery Seven Brothers to launch a pizza-inspired beer for International Beer & Pizza Day.
The pizza brand has launched a new stuffed crust pizza – Sweet Honey BBQ Salami – to mark the day on 9 October, as well as a beer brewed by Seven Brothers billed as being inspired by its flavours.
The pizza features a tomato-filled stuffed crust and is topped with sweet honey barbecue sauce, mozzarella, red cheddar, salami and red onions (rsp: £4.49).
The beer, called Show Me The Honey (4% abv), contained flavours matched by the brewer with notes of honey in particular "really coming through", said Seven Brothers.
Seven Brothers brewer Jack Dixon said the dough element was easy to replicate with yeast, the base for any beer.
"Hops were added to give it a smoky salami bitterness, but not too late in the boil as we didn't want it to overpower the honeycomb malt syrups," he said.
The pizza has launched into Asda, Iceland, Tesco, Morrisons, Farmfoods and Amazon while the beer has hit Seven Brothers' online store (rsp: £3.50/ 440ml).
To encourage shoppers to try both flavours together, the first 100 customers to buy Show Me The Honey will be given a voucher to pick up a free Sweet Honey BBQ Salami pizza.