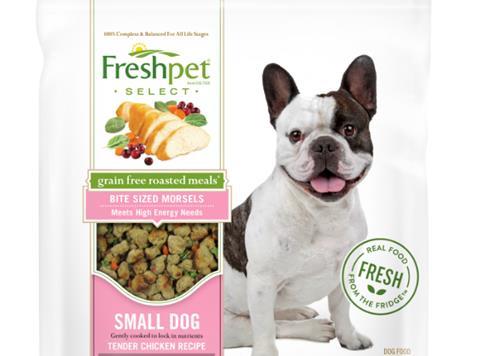 Chilled petfood is proving popular with shoppers in Tesco – which has listed more lines by US brand Freshpet after it generated value sales in excess of £1.7m in 12 months.
The retailer has added three new Freshpet Select meal SKUs to branded chillers across around 300 stores. A smaller format Tender Beef Roasted Meal for cats is joined in branded chillers by two Tender Chicken variants for dogs – one grain-free and one aimed at small dogs (rsps: £5-£8/454g-794g).
The recipe for small dogs was created in response to the rising popularity of diminutive breeds – with 37% of dogs in the UK classified as small, said Freshpet.
The new lines follow the introduction of fresh turkey bacon treats in November. The meat strips for dogs were the brand's first treat to launch in the UK – and a first for the country's petfood category, according to Freshpet.
The US supplier launched in Tesco in 2016 in a "handful" of stores in Norfolk and Suffolk. The pilot scheme later expanded to 50 outlets across the UK following a "promising" response.
Having rolled out to around 300 Tesco outlets last March, a trial with Asda was extended in July from 13 stores to 78.
Freshpet value sales went on to reach £1.72m in the 12 months to 14 January 2018, according to the business.
Its co-founder and Europe MD, Cathal Walsh, credited the success to shoppers "increasingly willing to buy higher-quality, natural food for their pets, reflecting their own eating desires and habits".