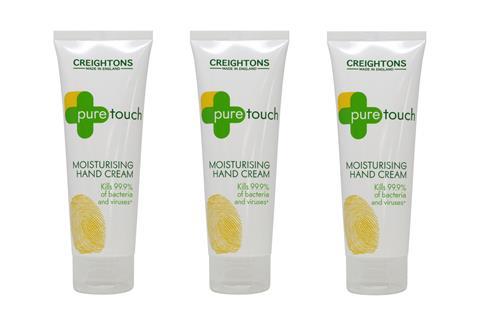 Creightons has unveiled what it claims is a first to market antibacterial and anti-virus moisturising hand cream.
The cream has launched as part of its Pure Touch personal care range and is registered as a biocide. It is billed as killing 99.9% of bacteria and viruses while also moisturising and nourishing the skin, providing "effective and lasting protection against bacteria and viruses", Creightons said.
Skincare was "a prominent issue", said the brand's global sales and marketing director Pippa Clark, due to the increased use of handwashes and sanitisers in response to the coronavirus pandemic.
"There was clearly a gap in the market for this product," she said. "As more people have used handwashes and sanitisers in response to Covid-19, and wash and apply those sanitants more frequently, skincare was becoming a more prominent issue with the drying effects of alcohol and other ingredients."
As well as owning its own brands, Creightons is a third party manufacturer for a host of other UK personal care brand owners, and makes retailer private label lines.
Technical director Martin Stevens explained Creightons had set out to find the right combination of materials to "optimise biocide effectiveness", and the finished hand cream was made up of a "unique combination" where the active ingredients had not been deactivated by the other ingredient materials.
The hand cream is also ethanol-free, which means it doesn't have a drying effect on the skin, nor an "immediate-only effectiveness" against bacteria and viruses, which can be the case with alcohol-based hand sanitiser, according to Creightons.