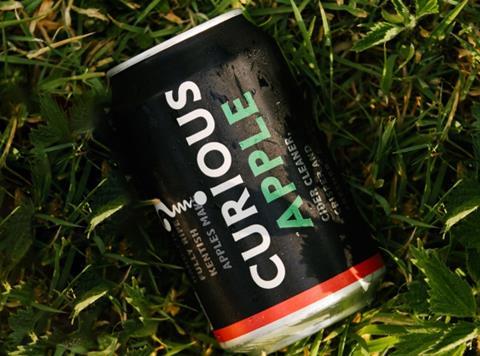 Curious Brewery, the craft beer and cider brand owned by Kent winery Chapel Down, has launched its first canned cider exclusively into Majestic.
Curious Apple (5.2% abv) is made from Kent apples that are fermented in stainless steel tanks at the Chapel Down winery, before being given what the brand called a "winemaker's twist". Bacchus wine yeast is added to the liquid to "preserve its aromatic and delicate flavour". It had "crisp, fresh aromas of green apple together with hints of Gallia melon, elderflower, citrus and kiwifruit" said Curious Brewery.
Curious Apple has rolled into Majestic in a 330ml six-pack (rsp: £9.60), having previously been available only in a bottle.
The decision to add the new format was based on "brewery data indicating the growing trend for access to more cans from both wholesalers and consumers alike".
The can was "easier to chill, lighter to carry and provide the ultimate in convenience" said Chapel Down head winemaker Josh Donaghay-Spire.
It comes as Curious Brewery is midway through a limited edition series of beer called Curiouser & Curiouser, which it is producing in collaboration with regional brewers, packaged in a 750ml wine bottle. So far, the business has unveiled Chapter 1, a 4.9% abv wild-fermented chardonnay and bacchus sour ale made with Wild Beer Company of Somerset, and Chapter 2, an elderflower saison made with London's Brew By Numbers.