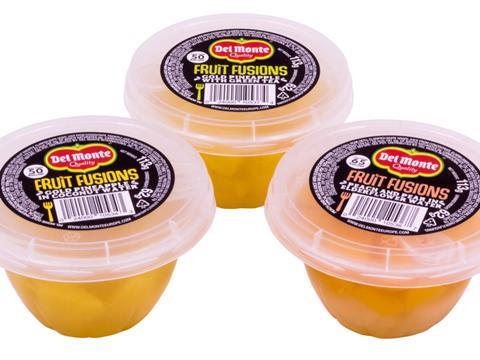 Del Monte has launched two new fruit snacking ranges with a view to capitalising on the indulgent tier of the fruit snacking market.
Its ambient Fruit Fusions and Fruit Express ranges went on sale in Tesco last week, while the brand's Fruit Express line also won listings with One Stop and Dunnes.
Both ranges come in clear, recyclable pots and each serving provides one portion of the 5 a day. This follows NHS findings which suggested three quarters of UK consumers struggled to meet the recommended intake.
Fruit Express is billed as a lunchbox treat which is ideal for snacking on the go or after school. It comes in Peach Chunks, Fruit Cocktail, Gold Pineapple, Tropical Fruit Mix, Mandarins and Peach & Pear varieties. The products are available in pots of 113g (rsp: 50p), 227g (rsp: £1.10) and multipacks (rsp: £2/4x113g).
Its premium Fruit Fusions offer was a "healthy pick-me-up solution to combat the mid-afternoon energy slump", said the brand. Available in Gold Pineapple in Coconut Water, Gold Pineapple with Green Tea and Peach & Pear in Elderflower Water (rsp: 70p/113g), each pot contains less than 65 calories and no added sugar.