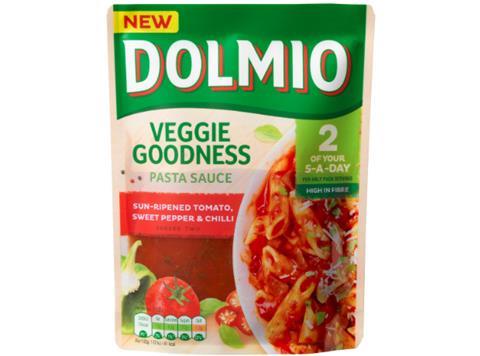 Dolmio has ramped up its better-for-you offer with Veggie Goodness, a range of cooking sauces that provide two of the 5 a day.
Four variants are rolling out this week promising two portions of fruit & vegetables in every serving. Sun-Ripened Tomato, Courgette & Basil; Sun-Ripened Tomato, Sweet Pepper & Chilli and Sun-Ripened Tomato, Lentil & Garlic are for pasta dishes, while Smooth Tomato & Hidden Vegetables is a bolognese sauce.
Each comes in a 340g pouch intended for two (rsp: £1.99). They are high in potassium and fibre, low-fat and contain between 4.2g and 4.7g of sugar per 100g – with no more than a quarter teaspoon of added sugar "to balance the flavours" according to Dolmio marketing manager Ian Nundy.
Veggie Goodness had been created in response to the fact about a third of British shoppers did not achieve their 5 a day, he said. "Consumers are always looking for ways to make their favourite meals a little healthier and know that five portions or more of fruit & vegetables can contribute to that, but many of us just aren't eating enough."
The range's launch follows Dolmio's launch last August of no added sugar sauces as part of its commitment to offering "great-tasting, healthier options". Also in 2017, the brand's owner, Mars, signed up to the Food Foundation's Peas Please initiative to help increase vegetable consumption in the UK.
Veggie Goodness, the result of around 18 months' development, "absolutely fits into our commitment around Peas Please" Nundy told The Grocer.