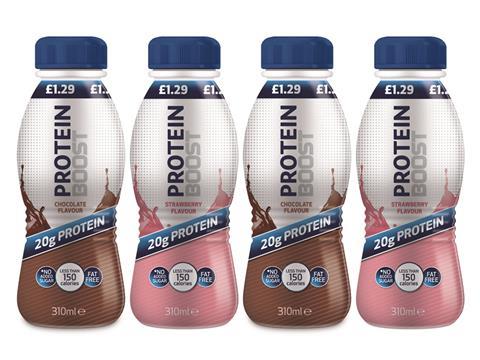 Energy drink brand Boost is set to diversify its portfolio in the new year by tapping the ongoing protein trend as part of a major growth programme.
Launching in January, Protein Boost is a skimmed-milk drink aimed at the independent convenience channel. Each 310ml bottle promises 20g of protein (the equivalent of 6.5g per 100ml), no fat or added sugar and less than 150 calories. It also lacks the caffeine found in Boost's core range, and will be available in two variants – strawberry and chocolate – price-marked at £1.29.
There was "a real gap in the convenience sector for protein drinks", said Boost strategy director Kirsty Birks. "Innovation has always been a priority for us, and now seems exactly the right time for us to diversify."
The NPD's post-Christmas rollout will mark the first of a number of developments by Boost aimed at growing its business, which will also include a packaging overhaul and repositioning for its entire portfolio, a refresh and reformulation of its Sport Isotonic line, and a limited edition summer variant in a 250ml PMP.