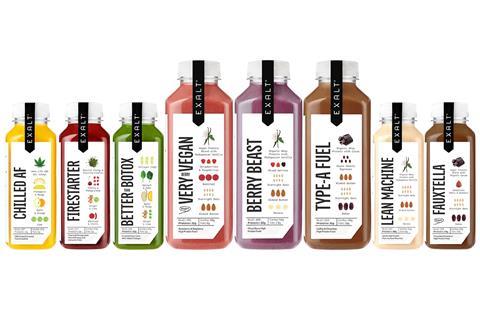 Sports nutrition brand Exalt is to make its debut with a range of meal replacement drinks and cold-pressed juices.
The eight-strong lineup was designed to support an "active healthy and on-the-go lifestyle", said Exalt, with each ingredient selected to "promote health and maximise performance".
The products had been made in consultation with food technologists, nutritionists and taste experts to create a range that "fuels physical, mental and emotional wellbeing", said Exalt co-founder Charlie Wilson-Vaughan.
The five meal replacement drinks all contain the brand's 'power of three' protein blend. The two vegan options – Verry Berry Vegan and Fauxtella – are made with pea, hemp and pumpkin proteins, while the non-vegan lines – Berry Beast, Type-A-Fuel and Lean Machine – contain whey, free-range egg white and casein proteins (rsp: £5.65/330ml & £6.65/500ml).
The three juices were made via cold pressing to retain vitamins and nutrients while keeping the taste intact, according to Exalt. The trio comprises Chilled AF, Better Than Botox and Firestarter (rsp: £5.65/300ml).
The brand said its core focus was sustainability. It has developed a framework called 'Conscious Consumption', which ensures transparency along its supply chain as well as a commitment to giving back to communities.
Wilson-Vaughan said Exalt was producing its drinks "as sustainably as we can to keep our impact on the environment to a minimum".