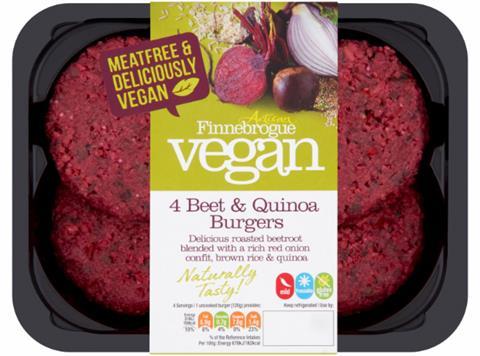 Northern Ireland-based sausage and bacon supplier Finnebrogue is poised to take a big bite out of the booming meat alternatives category after opening a new vegan and vegetarian factory.
Finnebrogue has been producing vegetarian and vegan products for three years, and supplies some own-label lines to M&S and Asda, alongside products such as its branded beet & quinoa and spicy bean burgers to Booker and independent retailers.
But the opening of a £3m new facility at its County Down headquarters this week marked a "significant up-scaling" of the company's meat-free production, it said.
The factory will support 90 new jobs when it reaches full capacity and will be capable of producing up to £30m a year's-worth of vegan and vegetarian food, compared with its current "small-scale" production, Finnebrogue added. The family-owned supplier saw its turnover grow from £5m in 2009 to almost £90m last year.
The upscaling of its vegan and vegetarian operation comes amid a spate of plant-based launches to coincide with Veganuary.
Meanwhile, research published by Mintel last week revealed the UK had overtaken Germany as the world's leader for vegan food launches, with one in three (34%) British meat eaters reducing their meat consumption in the six months to July 2018, up from 28% during the same period in 2017.
"Finnebrogue has always prided itself on providing consumers delicious, innovative products and – given the increasing demand for vegan and vegetarian alternatives – this new factory was the obvious next step in our growth," said MD Brian McMonagle.
"We are determined not to stand still and are always looking to make food the best it can possibly be, without being bound by the way it's always been done," he added.
"More and more people are switching to a vegan or vegetarian diet – and even meat eaters are increasingly seeking a day or two off a week. Our NPD team is doing extensive work to make some of the tastiest meat-free products on the market."
The supplier hit the headlines after launching its nitrite-free Naked bacon and ham range last January, which completely cuts out the ingredient associated with causing cancer. It also supplies own-label sausages to many major supermarkets, in addition to wagyu beef.