Following the revamp and return of the infamous Turkey Twizzler, we take a look at some teatime classics that have been given a modern makeover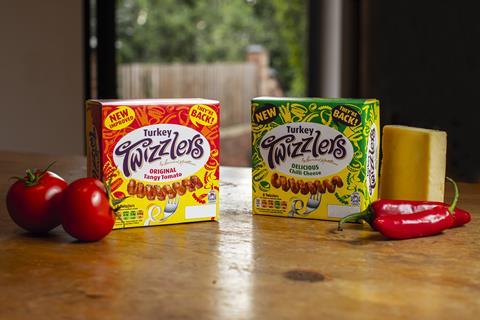 Turkey Twizzlers
Previously a staple of school dinners and mealtimes, Turkey Twizzlers were infamously banned from school meals and eventually discontinued in 2005 following a campaign by Jamie Oliver. The product was notorious for containing just 34% turkey and 137 calories and for being ultra-processed, with more than 40 ingredients in the recipe. In Bernard Matthews' 'healthier' and 'more premium' iteration of the product, announced this week, the spiral shape remains but much has changed, including doubled turkey content (70%), fewer calories (87), lower fat, saturates, salt and sugar and a new Chilli Cheese flavour. This will hit supermarket freezers, along with the original Tangy Tomato variant, from 20 August (rsp: £3/eight-pack).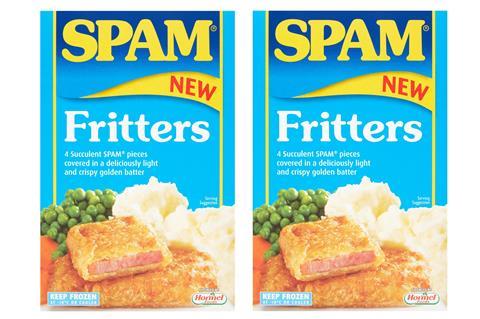 Spam Fritters
First made popular during World War II, Spam Fritters have been gracing chip shops and dinner tables for close to 80 years. The battered Spam pieces can still be found in the chilled aisles of supermarkets such as Tesco and Asda. However, in June this year, Iceland began selling the product frozen for the first time (rsp: £2/300g). Made by Danish Crown, the fritters come in packs of four and feature a 'light and crispy golden batter'. They also contain fewer calories, more protein and less fat per 75g serving than their chilled counterparts, which are supplied by Tulip.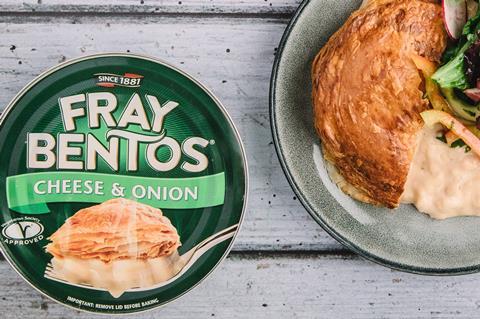 Fray Bentos
Known for its tinned chicken meatballs and traditional pies in flavours such as Steak & Kidney and Minced Beef & Onion, Fray Bentos has long been a purely meat-centric brand. That is until this year, when the company began catering for a more modern market with its first vegan and vegetarian pies. The Vegetable Balti, Vegan Steak & Kidney Bean and Cheese & Onion variants launched into supermarkets in May.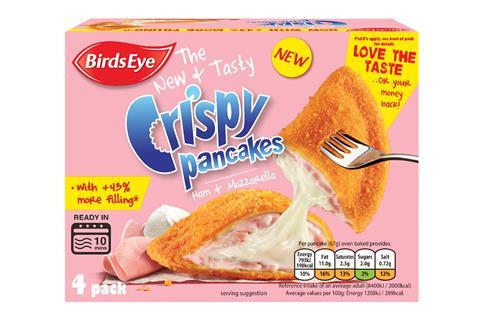 Crispy Pancakes
Much has changed for Crispy Pancakes since their introduction under the Findus brand in the 1970s. Owner Young's Seafood attempted to rename the brand the Original Pancake Co after Findus had its reputation damaged by the horsemeat scandal in 2013. However, it lost its rights to use the brand in January 2016. Parent company Nomad Foods then decided to launch a Birds Eye-branded equivalent, which went on sale in Sainsbury's in March 2019. The product recieved a 'modern' new look and up to 45% more filling than the original Findus line. Its long-standing Beef & Onion flavour also vanished from the range, which now features Ham & Mozzarella, Tomato & Mozzarella, and Mozzarella variants (rsp: £1.75/266g).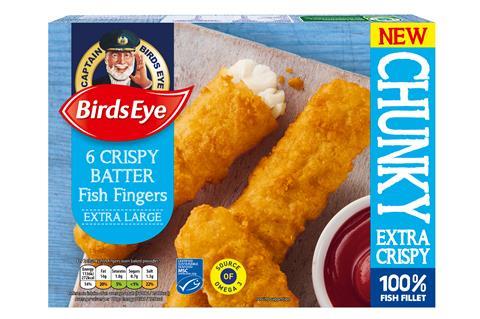 Fish Fingers
Gone are the days when the skinny, breaded, reconstituted variety of fish fingers were the only ones available. Of course, fans of these can still find them in supermarket freezers, but they now sit alongside a plethora of new varieties boasting a range of credentials. Gluten-free, wholegrain, rich in omega-3 – these are all areas Birds Eye has explored as it looks to keep the frozen staple exciting and relevant. For example, the brand believes it has "created the ideal fish finger" with its most recent launch, which hits stores next month (rsp: £3/six-pack). The extra large, extra crispy battered variety is a hybrid of Birds Eye's Chunky and Oven Crispy Battered variants, and is made using 100% MSC-certified pollock fillet.