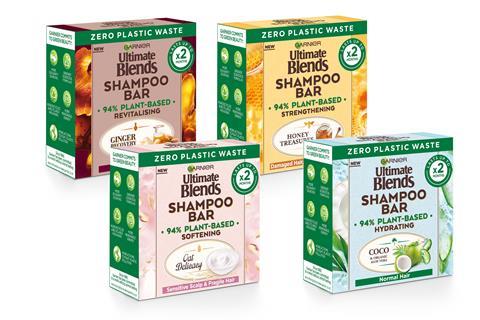 Garnier has launched a range of plastic-free shampoo bars in the UK.
It said it was the first major mass beauty brand to offer an alternative to liquid shampoo products, with zero plastic waste.
The Ultimate Blends Shampoo Bars have launched in four plant-based blends for various hair types – Revitalising Ginger, Strengthening Honey, Hydrating Coconut and Softening Oat Milk. They are designed to last two months.
The L'Oreal-owned brand said its scientists had spent 18 months evaluating more than 60 formulas to achieve the same care, foaminess and creaminess of a regular shampoo in this new format.
Its international scientific and sustainability director Aurelie Weinling said Garnier hoped products such as this would "lead to a genuine democratisation of the solid shampoo category in mass market terms".
She added sustainability needed to be made accessible for all to achieve real impact at scale.
The bars hit Boots today (20 November), priced at £7.99 per 60g bar.
It's the latest sustainability move from Garnier owner L'Oreal, which in September rolled out 1,000 cross-brand cosmetics recycling points at Tesco, Sainsbury's, Boots and Superdrug stores across the UK.
It forms part of the L'Oreal for the Future strategy revealed in June, which outlines its sustainability targets to be achieved by 2030.
It has pledged to achieved carbon neutrality at all its production sites by 2025, and for 100% of the plastic used for its packaging to come from recycled or bio-based sources by 2030.