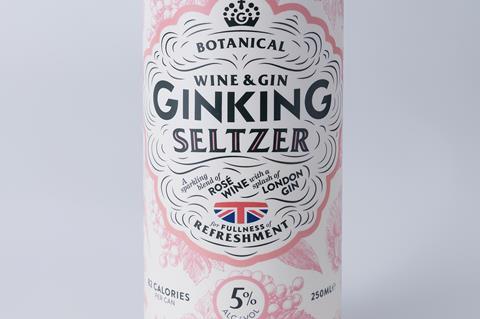 The Ginking Company has unveiled what it claims is the UK's first wine and gin hard seltzer.
The drink (5% abv) is billed as a "harmonious" blend of rosé wine, gently carbonated water and London Gin, along with botanicals such as pink pepper, star anise, rose petal and juniper.
This combination gave it a "charming pink hue" with a "distinctive and crisp aromatic floral taste", said the brand.
The NPD weighs in at 83 calories per 250ml can, and is vegan and gluten-free (rsp: £49.95/24x250ml).
Its cans were "also more sustainable and environmentally friendly than glass or plastic as they consume fewer resources and less energy", it added.
The brand's MD John Worontschak added it had seen "a gap in the UK market for a high-quality natural artisan wine and gin seltzer". The drink would be "welcomed by consumers looking for an alternative to high alcoholic wines and cocktails", he said.