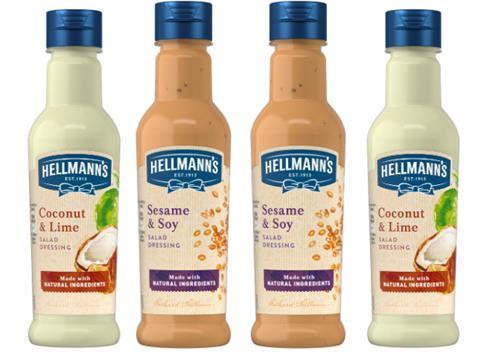 Hellmann's has given its salad dressings range a major overhaul to make it all-natural, while shrinking its packs by more than 10%.
Rolling out now in an effort to "reinvigorate" the dressings market, the dressings have been reformulated to have all-natural ingredients and improved flavours. While the rsp remains £1.65, the new-look 210ml squeezy bottle is almost 11% smaller than the previous 235ml pack.
Unilever said the range was "completely new", including "new packaging and designs".
The selection of variants has been expanded with Sesame & Soy and Coconut & Lime – "developed to attract shoppers desiring more experiential ingredients in their salads" according to Hellmann's. More than 70% of the dressings now boasted "vegetarian and gluten-free credentials to also target the growing number of consumers following specialist diets".
They will be backed by a £2m spend – the first time Hellmann's salad dressings have been supported by a full above-the-line push. It would seek to cash in on a "huge opportunity" in the UK's "millions of salad food occasions" Hellmann's said.
Salads were in "exponential growth", according to Jon Walbancke, brand building director at Hellmann's owner Unilever UK & Ireland, "but currently just 37% are consumed with an ambient accompaniment".