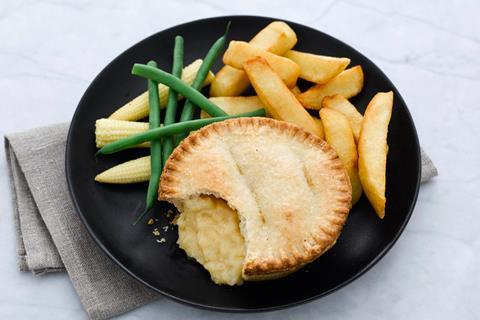 Holland's Pies has teamed up with Wyke Farms to create a new deep fill mature cheddar cheese and onion pie.
The new pies are pre-baked, and can be microwaved in five minutes. The collaboration is billed as having "enabled a truly unique tasty, rich and creamy mature cheddar cheese & onion pie to be created".
The launch will be backed by a push on social media, and a further marketing and comms campaign to follow over coming months. A chilled, single-serve version will also be launched in 2020.
Holland's Pies said it wanted to lure more vegetarians to the brand.
The two brands' "combined years of expertise and great British family values means the new pie uses all of the cheese taste credentials of Wyke Farms alongside Holland's Pies' baking expertise", said Holland's Pies MD Nigel Church.
"Not only are we offering consumers a quality pie, we are pairing that with the distinct flavour of Wyke Farms award-winning mature cheddar cheese."
They have hit Asda in packs of two this week (rsp: £2.25).