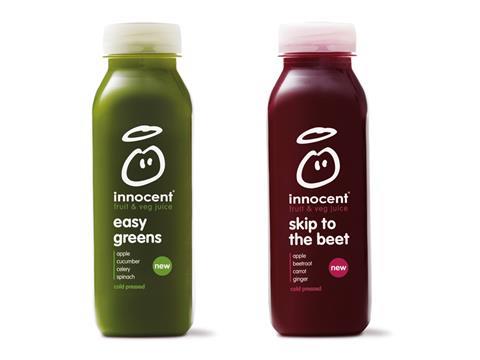 Innocent has made its cold-pressed debut with a range of fruit and vegetable juices.
Easy Greens, a blend of celery, cucumber, spinach and ginger, and Skip to the Beet, an "earthy tasting" juice made from beetroot, carrot, lemon and ginger, are being rolled out in Starbucks now priced £3.99 for 330ml.
"With cold pressing, the ingredients are not exposed to any heat, which means that we can use sensitive ingredients such as cucumber and spinach, whose colour, taste and texture would change significantly if they were pasteurised," Sim Jerath, brand manager for juice, told The Grocer.
"Our cold-pressed juices have a lovely, vibrant colour and fresh taste, just like the fruit and veg we use to make them, and happily they retain all the same great nutritional benefits as all of our other fruit juices."
In August Vegesentials secured a listing in 100 Tesco stores for its cold-pressed raw fruit and vegetable beverages.
Nosh Raw Smoothie and Savse are among the other brands that use the high-pressure processing (HPP) method – otherwise known as cold-pressing – due to its ability to retain the nutrients of ingredients that may be destroyed by heat.