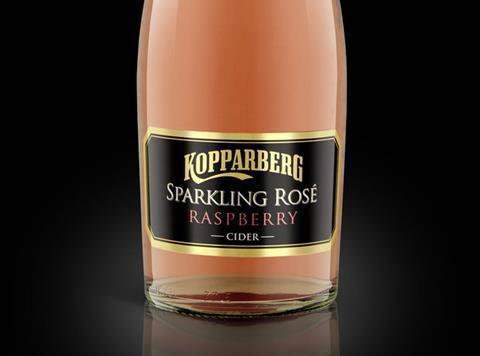 Kopparberg is gearing up to take on Heineken in the 'super premium' cider aisle with a permanent rollout of its Prosecco-like Sparkling Rosé Cider on the back of an 'outstanding' soft launch, The Grocer can reveal.

The Swedish cider producer said the range, trialled in Asda at the back end of last year, would return as a permanent offering this week, featuring the original 7% abv strawberry and raspberry variants, and presented in the corked-style bottles historically associated with fizz.

The decision to make the duo, positioned as a premium cider alternative to sparkling wine, part of Kopparberg's portfolio followed an "outstanding response" to the trial, which marketing manager Rob Salvsen said had successfully tapped the thirst for bubbles and appealed to the growing number of cider drinkers looking for new sharing propositions.

"Sales figures from the initial trial indicate the drinks will be extremely successful across the off-trade," said Salvsen, adding the duo would be made available to all retailers later this year.

Kopparberg Sparkling Rosé will be squaring up to Heineken's similar three-strong 7.4% abv Stassen Cidre, launched as a trial with Sainsbury's in January 2016. The latter was introduced with a premium £8-£10 price tag per 750ml bottle, compared with Kopparberg's £6.50, but the trio has consistently been available on promotion [Brand View].

Stassen Cidre had generated incremental sales to the category, said Heineken, with "significant" cross shopping with sparkling wine.

"We will continue to nurture this brand with the long term aim of continuing to grow the cider category and adding value to our retail partners," a spokeswoman said.