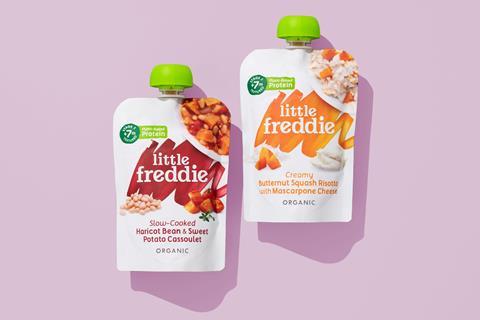 Little Freddie is boosting its babyfood portfolio with four new products.
It has added a duo of vegetarian meals to its range of 7+ months pouches, as well as what it claims is a first-to-market finger food for babies 12 months and over.
Creamy Butternut Squash Risotto with Mascarpone Cheese is made with a mix of quinoa, rice and red lentils combined with Italian mascarpone and mature cheddar.
Slow-Cooked Haricot Bean & Sweet Potato Cassoulet, meanwhile, is made with "sophisticated ingredients" such as haricot beans, coconut cream and quinoa.
Both pouches are claimed to be high in fibre and a source of plant-based protein.
Little Freddie paediatric nutritionist Jo Rayner said babies required a mixture of different protein sources to get the complete mix of amino acids they needed.
"The white haricot beans, red lentils and quinoa used in these recipes are a great plant-based protein source, which is needed for growth and repair," she added.
They will hit Sainsbury's, Ocado and Amazon in September (rsp: £1.60/130g).
Little Freddie's venture into finger foods comes in the form of new Super Seed Tubes, launching in two flavours.
They are made with haricot beans, fava beans, quinoa and linseed, providing a source of iron, zinc, fibre and protein, said Little Freddie.
The two flavours – Cheese & Tomato and Sweetcorn & Carrot – will also launch in September (rsp: £2.50/4x16g).