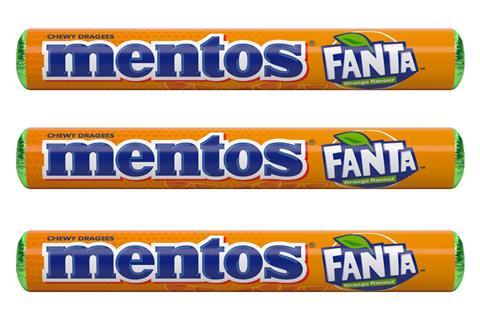 Mentos has created a limited-edition Fanta-flavoured version of its sweets.
Claimed to offer the "fruity taste of a Fanta Orange drink", the NPD will roll into retailers this summer.
The sweets will be available in singles and multipacks to target different consumer occasions.
Singles have rolled into Spar, BP and Shell. Multipacks of four will roll into in Asda at the beginning of June (rsp: 51p-£1.29).
The partnership was a "perfect match of two well-loved brands" both of which had "a long history of delivering refreshment and fun to consumers all over the world", said Mentos.
This is the first global licensing offer for the Perfetti Van Melle-owned brand, set to launch in more than 50 countries.
"We can't wait to bring this delicious new twist on Mentos to the UK," said Perfetti Van Melle UK marketing director Mark Roberts.
"Brand mash-ups always perform really well when they bridge categories, and two cult favourites coming together in this limited-edition is sure to be a hit," he added.
The launch will be supported globally by a "dynamic and fun" campaign, including in-store activation.