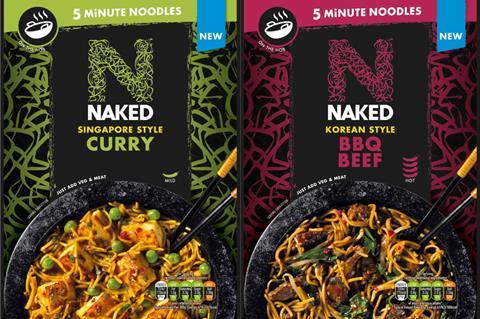 Potted noodle brand Naked is moving outside of pots for the first time with a range of on-the-hob 'Five Minute Noodles'.
The Symington's-owned brand, which is stocked in Tesco, Sainsbury's, Asda and Ocado, has created four flavours of on-the-hob noodles – Chicken Yakisoba, Singapore Curry, Korean BBQ and Thai Sweet Chilli – which are billed as containing under 2g of fat per SKU.
The brand said it wanted to "inject much-needed excitement into a category dominated by 'bog standard' flavours without compromising on convenience or health". They roll into Tesco this month, apart from Thai Sweet Chilli, which will be a convenience exclusive (rsp: £1).
On-the-hob had "been booming in recent months so it feels like exactly the right time to launch this new format for our Naked brand and continue the fantastic growth it has consistently delivered for us", said Symington's head of snacking Christine Everett. "Naked is now worth over £21m, and we're confident that with the new occasions and consumers that OTH can deliver that growth is set to continue."
The launch will be backed by a major marketing push.
Naked isn't the first noodle brand to ditch its pots – Unilever's Pot Noodle rolled out a trio of 'Lost The Pot Noodle' snacks in pouches in June, which were billed as having 30% less saturated fat than competitor brands.