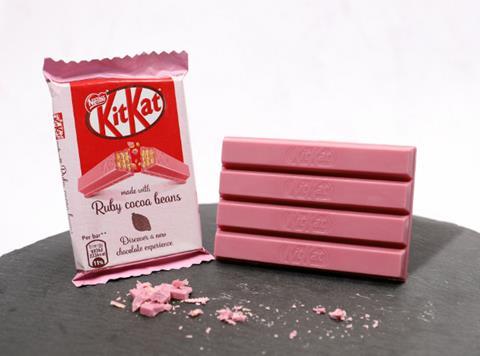 Nestlé UK has unveiled a pink Kit Kat made using the ruby type of chocolate revealed in September by Swiss confectioner Barry Callebaut.
The UK will be first market in Europe to have the new snack, which promises "an intense berry-fruitiness taste without the addition of any flavour or colour". It will be available from 16 April in Tesco as a four-finger bar (rsp: 85p/41.5g), before rolling out across Europe and the Americas.
The pink Kit Kat – which made its debut earlier this year in Japan and Korea – underlined Nestlé's "commitment to developing new, innovative products to help grow its leading confectionery brands around the world" according to the supplier. It took "just four months to develop the first product after ruby chocolate was revealed".
Alex Gonnella, marketing director for Nestlé UK confectionery, said a new variant of Kit Kat was a "really big deal".
He added: "Ruby chocolate is a big innovation in confectionery and we are very proud that Kit Kat is the first major brand in the UK to feature this exciting new chocolate."
Barry Callebaut was "very pleased to see the result of our partnership with Nestlé" said the B2B chocolate maker's chief innovation, quality and sustainability officer, Pablo Perversi. "Consumers across the world will be intrigued by the unique taste of this crispy delight."
Today's NPD announcement marks the third innovation this year for Kit Kat. In February, the brand added a two-finger lemon drizzle variant. It was followed in the same month by Kit Kat Senses: individually wrapped bite-size chocolates intended as a "more luxury option" in the Kit Kat portfolio.