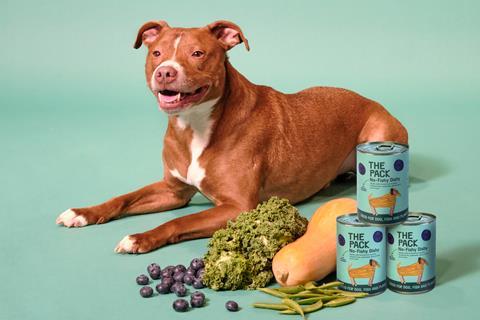 Petcare startup The Pack has made its debut with what it claims is the world's first range of plant-based wet dogfood that simulates meat.
The ambient lineup comprises No-Fishy Dishy, No-Cluck Casserole and No-Moo Ragu. It went on sale today via The Pack's website and online supermarket The Vegan Kind. The 375g cans are available in multipacks of three, six and 12, with rsps starting at £9.
Each variant is scientifically formulated to be rich in iron and fibre. Ingredients include kale, blueberries, broccoli, butternut squash, dandelion and rosemary. Added plant-based amino acids, methionine, taurine and lysine were all "essential for doggy health" said The Pack.
It also promised "the highest protein content of all plant-based wet petfood on the market" thanks to "an exceptional blend of textured pea protein and lupin beans". Each 100g provides 10g of protein.
The Pack was created by married couple Damien Clarkson and Judy Nadel, the London-based founders of Vevolution, an online community of plant-based and cell-based entrepreneurs, startups and investors.
They said their aim was to offer dog owners a planet-friendly option while providing "highly nutritious and sustainable" food that required fewer resources and created less waste than traditional, meat-based petfood.
Clarkson and Nadel "spent years carefully developing The Pack's dog food recipes, following European Pet Food Industry and National Research Council nutritional guidelines, so that our meals are not just plant-sourced, but nutritionally complete" they said.
The Pack's tech-based approach to dogfood had attracted investment and support from the likes of Roma & England footballer Chris Smalling, chefs Henry Firth and Ian Theasby, and TV vet Rory Cowlam, Clarkson and Nadel added.
Earlier this year, their new brand was one of eight from around the world selected for petcare accelerator Leap Ventures.
Subscribers to The Pack get access to a 'pet parent' social community plus exclusive gifts and offers. They can also send through questions to The Pack Panel, a specially selected group of experts, veterinarians, scientists and pet owners with decades of collective experience in pet health, animal nutrition and food science.
Every new subscription sees the cost of a single can donated to global dog charity Underdog International.