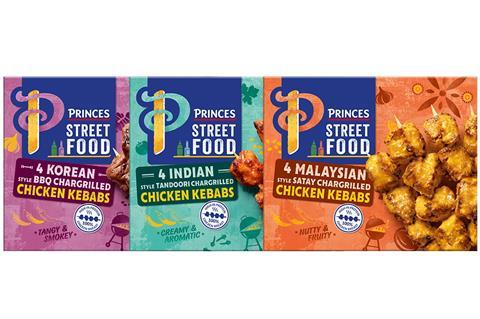 Princes is making its debut in frozen with a new kebab brand called Princes Street Food.
It has debuted with a trio of frozen marinated kebabs made from 100% chicken breast under the brand, the "first of its kind" for Princes. The range comprises three flavours: Indian Tandoori Chargrilled Chicken Kebabs, Korean Style BBQ Chargrilled Chicken Kebabs and Malaysian Style Satay Chargrilled Chicken Kebabs (rsp: £3.75/260g).
The Indian kebabs were "coated in a rich, aromatic marinade with combinations of paprika, cumin and coriander", while the Korean Style kebabs were "glazed in a smoky, rich BBQ sauce with soy, chilli and paprika", said Princes. The Malaysian kebabs, meanwhile, were "creamy and rich in satay sauce, made up from a combination of peanuts, coconut and tamarind".
They have rolled out in fully recyclable packs, are HFSS compliant, and are touted as being high in protein. The chicken used in the NPD is sourced from Thailand.
The kebabs can be cooked from frozen in 18 minutes and are billed as bringing "flavours from aroud the world to the centre of the table", with each skewer "hand-turned over charcoal to release the delicious spicy flavours".
The NPD came as the frozen poultry market was "mainly dominated by breaded or battered coated products", with Princes hoping to stand out by "offering variety and convenience", it said.
It would "offer a real point of difference for consumers to use these delicious flavour combinations to create a high-quality dinner option to be enjoyed and shared amongst family and friends", said Princes marketing director Alan Eriksen.
It marks the latest in a series of launches spearheaded by Princes' new innovation wing, Innov8, which came about as part of a £5m investment into overhauling its entire NPD strategy and capabilities over three years, including a new dedicated team, a "state-of-the-art" development kitchen, and a 3,000-strong consumer community for "unrivalled insight into the minds of shoppers".
Since the founding of Innov8, Princes has rolled out an array of launches in a bid to tap sectors in which it has not previously played – such as a quartet of plant-based canned ready meals under its eponymous brand, and Plot9, a new plant-based ambient meal pot brand.