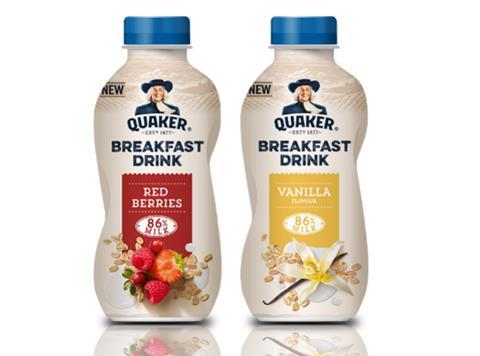 Quaker Oats appears to be ramping up its plans for a children's range of breakfast goods.
The PepsiCo brand has registered artwork with the Intellectual Property Office for Quaker Kids Mix & Match. Created to look as if it is shaking, the design sits under trademark class 30, which covers the likes of breakfast cereals, porridge, and preparations made from cereals.
Mix & Match's name suggests Quaker is looking to tap demand for customisable breakfasts – a trend that has seen the rise of overnight oats and smoothie bowls, and has led Kellogg's to launch Joyböl and Weetabix to run its current 'Any-Which-Way-A-Bix' TV push.
The latest IPO submission by Quaker, made earlier this month, comes 15 months after The Grocer first revealed the brand's plan for the Kids lineup. It is apparently eyeing food and drink products that are likely to have an on-the-go aspect – in the vein of its adult-focused Fruit & Oat Squeeze pouches, Porridge To Go Breakfast Squares and Breakfast Drink duo added in July 2018.
Quaker would not be drawn on its plan for a children's range, except to say: "Companies register names for a variety of reasons, some which see the light of day and some which don't."
Last April, Weetabix targeted youngsters by expanding its popular On The Go drinks offer with a range aimed at five to 10-year-olds.