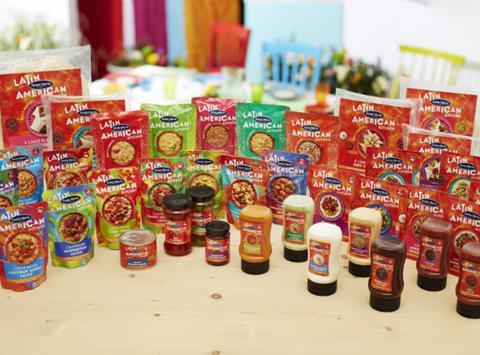 Santa Maria has launched its extensive Latin American Kitchen range to tap demand for Latin and Caribbean flavours.
Available from 12 June, the new lineup comprises 39 products – 24 new items and 15 that were already within the Santa Maria portfolio. On-trend ingredients include beans, chilli, coconut and lime, in products such as Cuban Chilli Sofrito Sauce, Argentinian Smoky Asado Sauce, Colombian Arroz y Frijoles (three-bean rice) and Costa Rican staple Corn Tortillas.
The range is divided in to 10 cook-in sauces (rsp: £1.79), five flavoured rices, seven dry seasoning mixes, six tortillas and wraps, and 11 toppings and sides.
The revamp came as a result of Latin America "attracting more and more visitors from the UK each year," said Paul Brixey, head of UK marketing at Santa Maria. "W e're seeing from the rapid rise in restaurants that its cuisine now has mainstream appeal.
"Consumers are open to exciting and innovative Latin American dishes, and Santa Maria's new range allows people to bring the continent's wealth of vibrant and delicious dishes into their own home in a simple and convenient way."