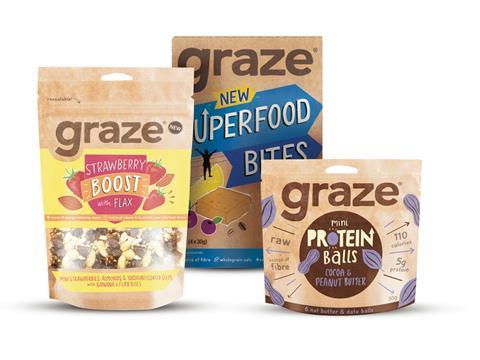 Healthier snacking brand Graze is marking the new year with the launch of four new ranges into grocery.
Rolling out today (8 January), the quartet comprises Superfood Bites, Mini Protein Balls, Superfood Mix and Energiser Mix – featuring a total of 15 SKUs.
Superfood Bites are wholegrain rolled oat flapjacks containing the likes of baobab, chia seeds, cacao nibs and quinoa. There are three variants: Blueberry & Lemon Oat Squares With Baobab, Cocoa & Orange Oat Squares With Quinoa and Cacao Nibs, and Raspberry Oat Squares With Chia. Available in a 4x30g pack (rsp: £2.49) and as a 30g single (rsp: 99p), the NPD provides under 435 calories per 100g. It was "the perfect option for consumers looking to jumpstart their new year's resolutions" Graze said.
Mini Protein Balls follow the May addition of Graze's Protein Bites lineup. The new snack is available in Cocoa & Peanut Butter, Coconut & Cashew Butter, and Cinnamon & Cashew Butter (rsp: £1.79/30g) – with 17g of protein per 100g and the same calorie content as Superfood Bites.
Superfood Mix comes in three variants of fruits, nuts seeds and superfoods: Tropical Power With Spirulina, Apple & Carrot Defence With Chia, and Strawberry Boost With Flax. Like the accompanying Energiser Mix trio – Cocoa & Orange, Vanilla & Pear and Cinnamon & Banana – Superfood Mix was "a source of energy-releasing manganese" said Graze. The two ranges mark Graze's first move into dried fruit & nuts mixes, and have an rsp of £2.79 for 58g-70g.
The quartet of new lineups was "the perfect option for an afternoon pick-me-up at work or pre-gym snack" according to Graze global brand director Pia Villa.
The brand is to support its portfolio of snacks by this month handing more than a million samples to commuters at rail stations and other commuter hubs in London, Manchester, Leeds, Liverpool and Birmingham. The £1m activity would "help those looking for exciting, healthy alternatives heading into spring" said Graze.