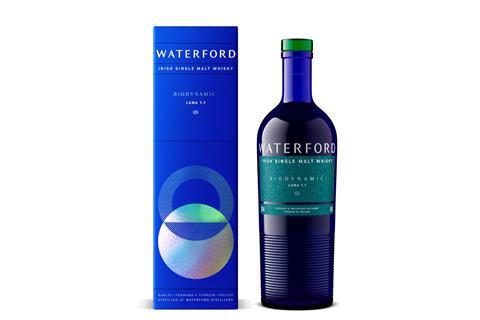 Speciality Brands is launching what it claims is the "world's first" biodynamic whisky through its Waterford brand.
Called Biodynamic: Luna, the 50% abv drink was distilled from rare barley varieties that were grown using biodynamic farming methods, said Speciality.
It is billed as having a "rich, oily texture with notes of fruit, fresh soil, lemon drizzle cake, cloves, almonds, milk chocolate and a touch of fresh mint tea".
The drink will be available to the on-trade this month. It will simultaneously roll into the off-trade via selected independents and specialist retailers (rsp: £89.95/700ml).
Three Irish farmers – Trevor Harris, John McDonnell and Alan Mooney – were responsible for growing the biodynamic barley.
Each ran their farm "according to esoteric principles derived from a 1924 series of lectures by the Austrian polymath Rudolf Steiner", said Speciality.
Steiner created a codified agricultural system for post-WW1 farmers, who were worried about the industrialisation of agriculture, the degradation of the land and the loss of millennia of farming knowhow, it added.
Practices include burying manure-packed cow horns to "ferment" underground and creating plant treatments and natural compost fertilisers to stimulate microbial activity, all following the natural rhythms of the lunar calendar. The purpose is to produce a chemical-free "living soil".
Biodynamic farming practices have been widely accepted in the wine industry, but few distillers have adopted them.
Waterford Distillery CEO Mark Reynier said biodynamics was "the culmination of 16,000 years of agricultural optimisation… before the vicissitudes of industrialisation and intensification dumbed down individuality".
Reynier said: "During my career I've had the fortune to taste the world's greatest wines. It's no surprise to see the ever-increasing adoption of biodynamics in the search for intensity and purity of flavour. If for the grape, why not the grain?"